Welles & Wells
Help: Blog
[X]

A blog (from "web blog") is a discussion or informational site consisting of discrete entries ("posts") typically displayed newest first. All Corrente posts are front-paged; there is no up-rate or down-rate process. Corrente posts are almost entirely community moderated. We encourage a clash of ideas, and do not encourage a clash of persons.

If you are the author of this post, see the Edit tab ad Help (and Advanced Help) for detailed documentation.
Submitted by

MJS

on Fri, 03/17/2006 - 4:20pm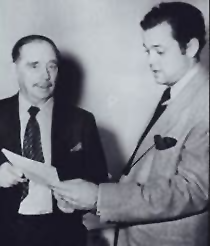 Welles and Wells Together Again For the First Time
+++
I've been recording all manner of silliness lately, and using Our Media to get it on the 'Net(s). Thanks be to Shystee in this regard.
While at the site I ran across an mp3 file of a radio broadcast from October 28th, 1940, in which Orson Welles and H.G. Wells, having met for the first time the day before, spoke about a world in trouble, while also mentioning a new movie the young Mr. Welles was readying for release*: Citizen Kane.
Listen to the recording of Orson and H.G.'s radio appearance here.
This is one of the reaons I think the Internet is a wonderful place to hang your hat: suddenly I'm in San Antonio in 1940, and the author of War of the Worlds is speaking with the co-writer, director and star of Citizen Kane, and I got here by clicking a piece of html code. Remarkable.
Don't let the beasties turn the Internet into a strip mall.
+++
Image from here.
+++
UPDATE: *see comments: my TV generation lingo was showing here, having written "broadcast" where what I meant was releasing a film to theaters. On the Internet you don't have to bury your mistakes: you have the opportunity to correct them. Thanks be to RAM, who got my goat.
+++