Wag the Hog
Help: Blog
[X]

A blog (from "web blog") is a discussion or informational site consisting of discrete entries ("posts") typically displayed newest first. All Corrente posts are front-paged; there is no up-rate or down-rate process. Corrente posts are almost entirely community moderated. We encourage a clash of ideas, and do not encourage a clash of persons.

If you are the author of this post, see the Edit tab ad Help (and Advanced Help) for detailed documentation.
Submitted by

MJS

on Sun, 07/16/2006 - 12:11am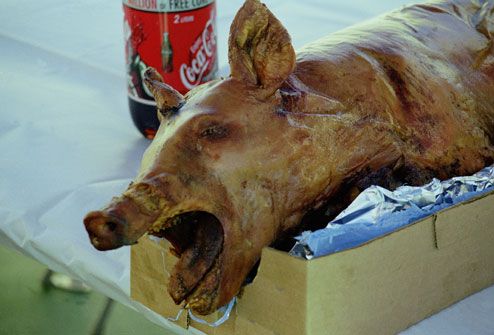 To Stralsund, to Stralsund
North of Berlin
To joke about pigs
And then home again
To Texas, to Crawford
For barbecue fun
Let's yuk it up
And burn in the sun
Hornets' nest, hornets' nest
Madder than hell
Blow it all up
What is that smell?
To death and destruction
A legacy true
Home again, home again
Bush has no clue
The rockets are flying
The children on fire
So squeal like a pig
And preach to the choir
This is the best
That George Bush can do?
Pig jokes 'n photo-ops
A big whoop-dee-doo?
To Rapture, to ruin
Upon a dead horse
Onward to heaven
To take it by force
To dinner with Jesus
Will Bush use a fork?
Or does he not know
His god won't eat pork?
+++
This posting was originally titled "Wag the Pig" but that phrase apparently was already copyrighted by Rush Limbaugh (as part of a travel agreement with a confederation of Caribbean orphanages). Out of respect for the rule of law, I have changed the title.
Note to Rush: Wag away, old sod. Wag away.
+++