Utah, Drive-By-Vegas & American Pie Part II
Help: Blog
[X]

A blog (from "web blog") is a discussion or informational site consisting of discrete entries ("posts") typically displayed newest first. All Corrente posts are front-paged; there is no up-rate or down-rate process. Corrente posts are almost entirely community moderated. We encourage a clash of ideas, and do not encourage a clash of persons.

If you are the author of this post, see the Edit tab ad Help (and Advanced Help) for detailed documentation.
Submitted by

MJS

on Sun, 12/11/2005 - 4:53pm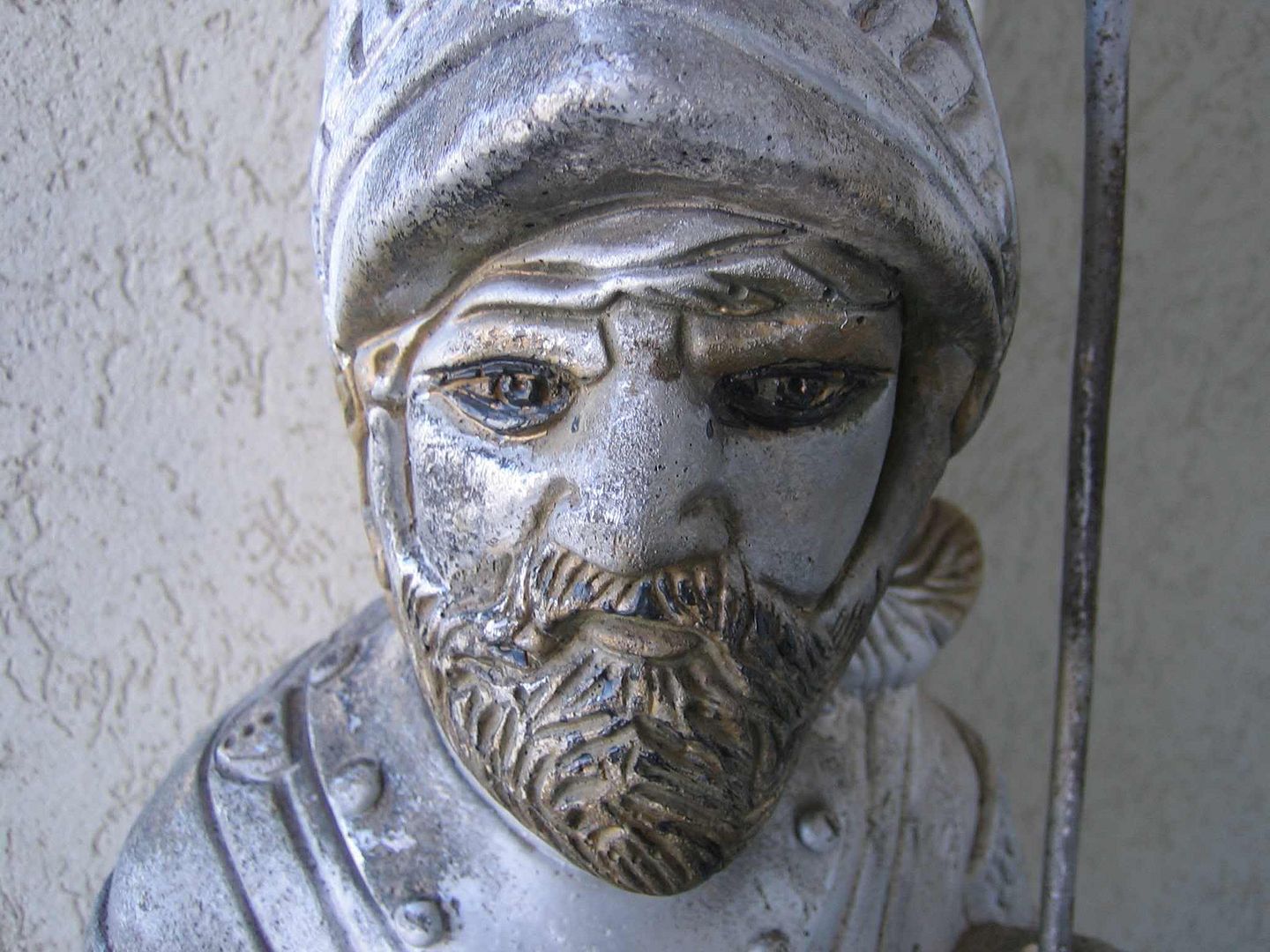 A Sentry in Kanab Purses His Lips For Reasons Unknown
+++
A day late, but here's some more of the photo essay...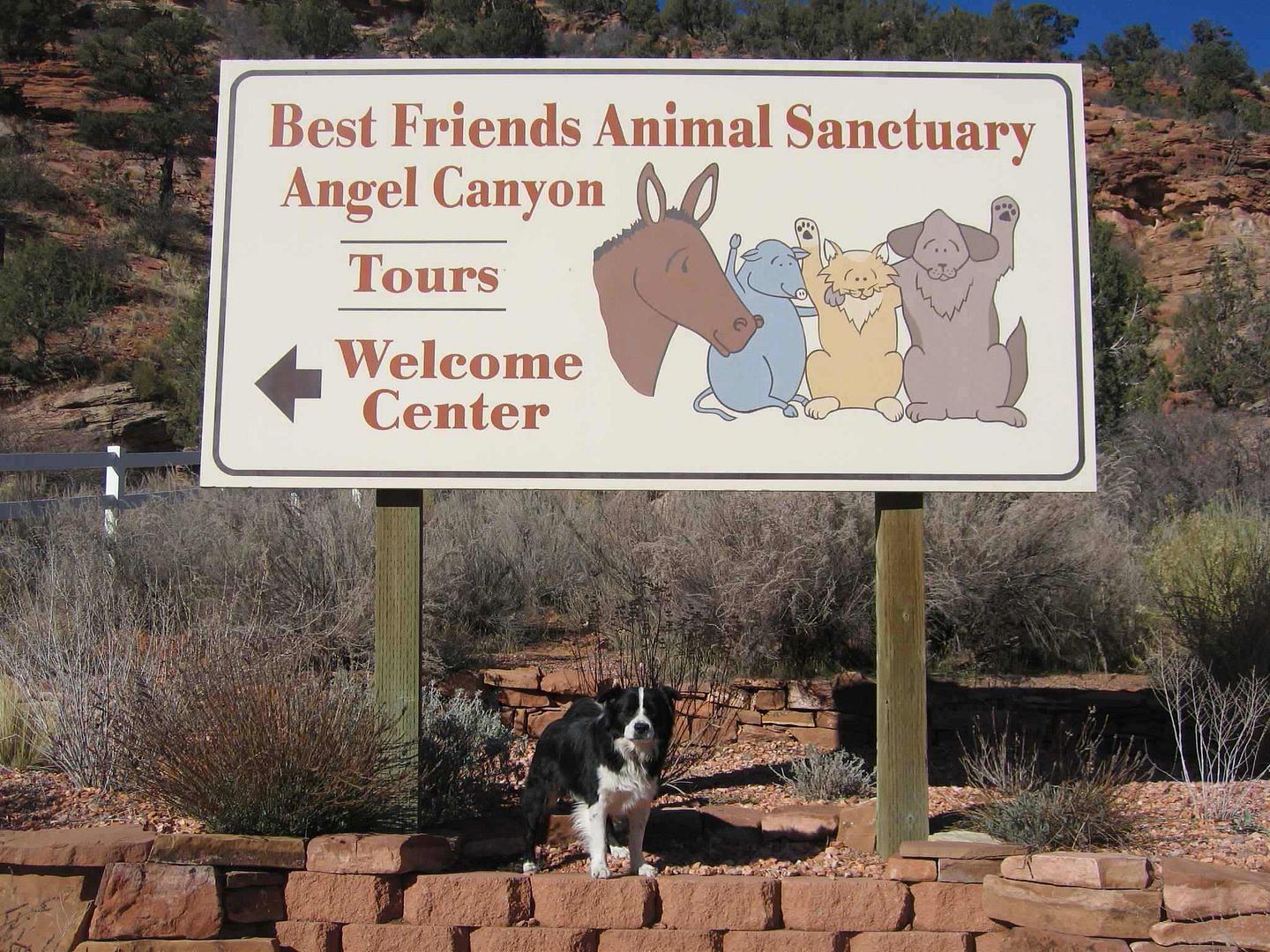 Chauncy & Signage
+++
We arrived (as I noted in the first part of this photo essay) in darkness at the Best Friends Animal Sanctuary just north of Kanab, Utah. Set back in Angel Canyon, the sanctuary sits on 3,000 acres that are "buffered" by an additional 30,000 acres leased from the BLM. It is a place that grew from a desire to change things for the better, and a willingness to work hard towards what the founders wanted to achieve. Short history: Twenty friends went on a journey that continues to this day--though some are not at the sanctuary and some have died, their works continue. More of the founders' history can be found here.

Best Friends Animal Sanctuary Visitor Center
My wife and I took two tours (friends joined us late in the second day of our visit so we went for another go) and listened to two different tour guides, noticing the slightly different spin each had as they relayed the story of Best Friends. An elderly horse rescued and housed there was 44, no, he was 45. There was a story about how--even on a windless day--a memorial chime will sound when an animal is interred--even on windless days at the animal resting grounds that is the final resting place for close to 3,000 animals. The second tour guide did not mention this legend, but the man who inters the animals swears by his story. No matter what, the cemetery is a sweet and gentle place tucked back into Angel Canyon: what more can a spirit ask?
+++
On any given day there are over 1,400 cats and dogs being housed at Best Friends, with the idea of adopting out every single one that can be adopted, and a permanent home for those that cannot be placed.

Love Me Quickly, But Pet Me Slowly
There are buildings everywhere high up in the canyon, housing sick and wounded animals, healthy animals, pigs, rabbits, stables and corrals for horses, a small aviary for birds and of course cats and dogs. Check out the Best Friends site, and read about how a group of people took chances and have impacted so many lives--to the good, to the caring side of the world.

Strange, the Animals Are So Still Here
Best Friends has been very active in rescue efforts for the victims of hurricanes' Katrina and Rita, with an army of volunteers placed in Tylertown, Mississippi.
The stated goal of Best Friends is "No More Homeless Pets." If you are ever in Southern Utah give them a whistle. You'll be glad you did.
+++
After the sanctuary we checked out the town of Kanab: its peak season is during the warmer months. When we were there in early December it was almost like a ghost town. We had a wonderful lunch at the Rocking V Cafe: we were the only customers around 1:00 on a beautiful Sunday afternoon. The waitress informed us that you need reservations during the high season. I had a bottle of Polygamy Porter...mmm: who knew Polygamy tasted so good? My wife had a vegetarian enchilada that rivaled and surpassed any we have tasted in Los Angeles. I recommend the joint...

The Rocking V Cafe
+++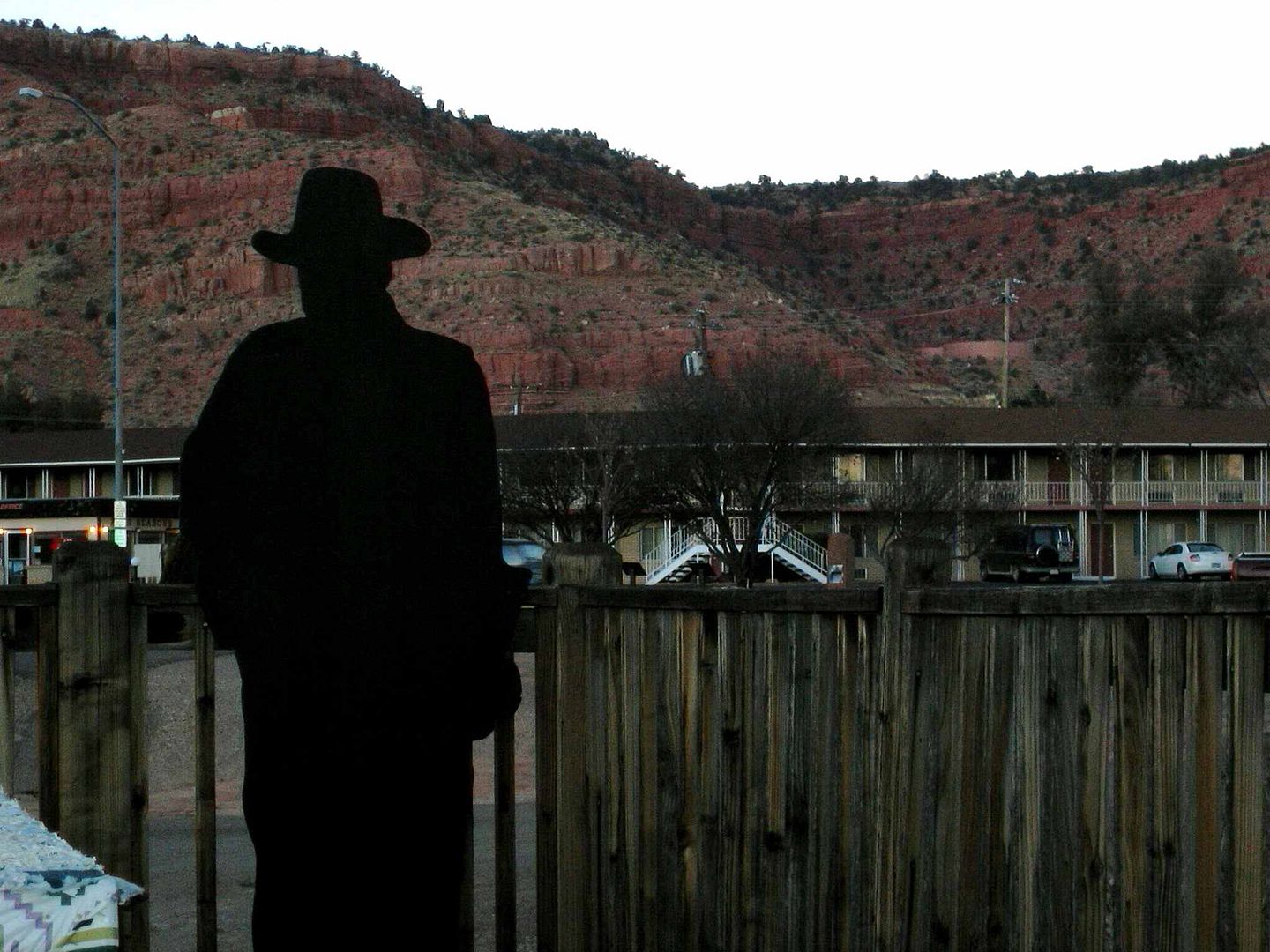 Cowboy Ghost Ponders Motel, Kanab, Utah
Kanab plays a bit on its role in Hollywood Westerns, as many films and television shows used the surrounding locales for their dramatic effects. The odd thing is that Kanab still references not the Old West so much but Hollywood's Old West, and the stars who came in, etc. Frontier Town is up for sale, with faux western sets, large restaurant and gift shop. What will happen when no one cares about Hollywood Westerns? Eh, don't know.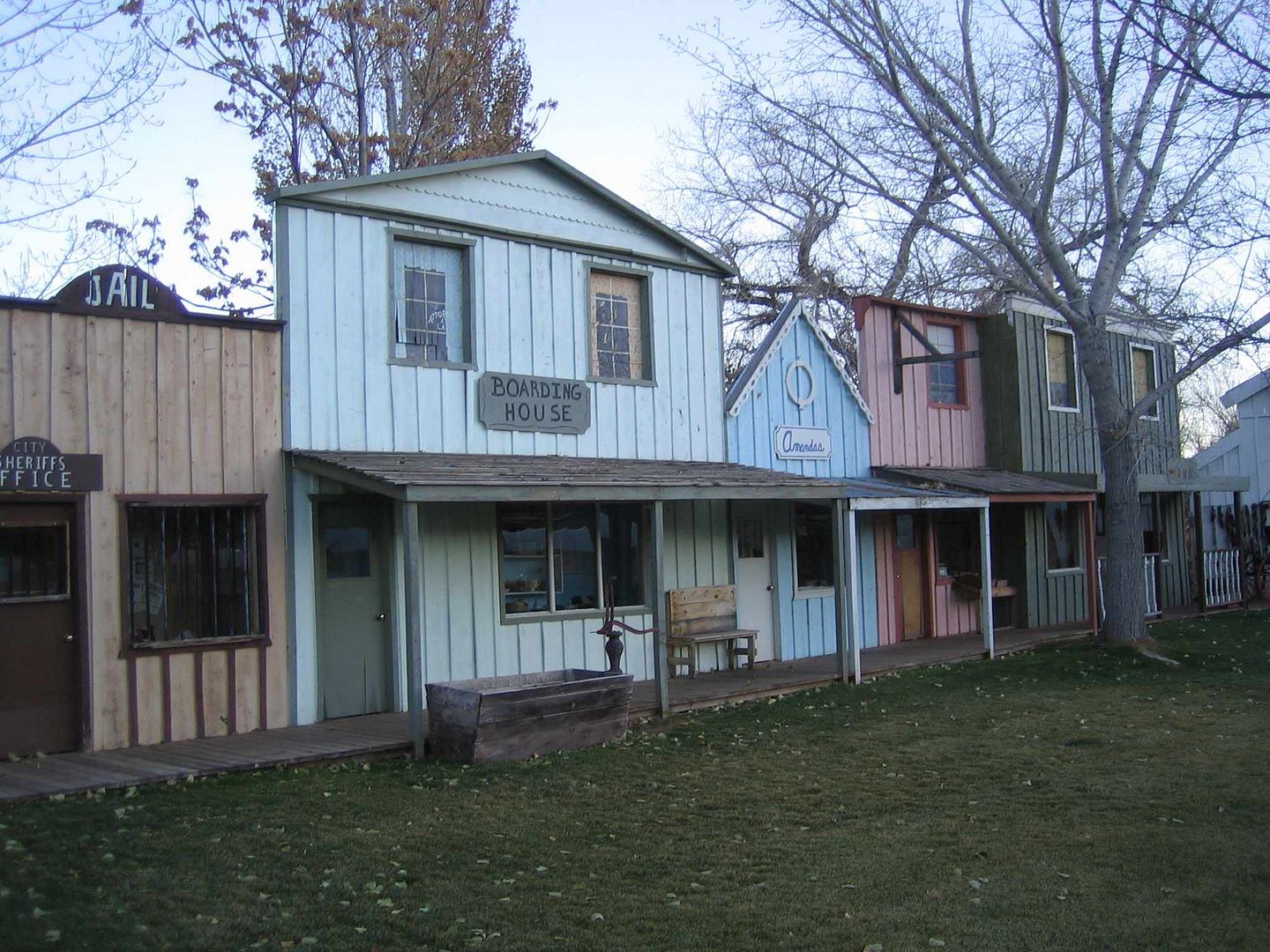 According to one local resident, Kanab took a hit quite some time back when a sawmill closed, leaving it with tourism as its largest employer. In the fall and winter, Best Friends Animal Sanctuary becomes the largest employer, with over 350 on its payroll, and many, many volunteers There was some talk of a Film Festival being created to drum up business, and with the town's proximity to the Coral Pink Sand Dunes, the Grand Canyon, Bryce Canyon, Zion and Glen Canyon Dam, there will always be tourism--many folks stay at the motels and do day drives to the various parks and wonders. What does it all mean? Eh, don't know.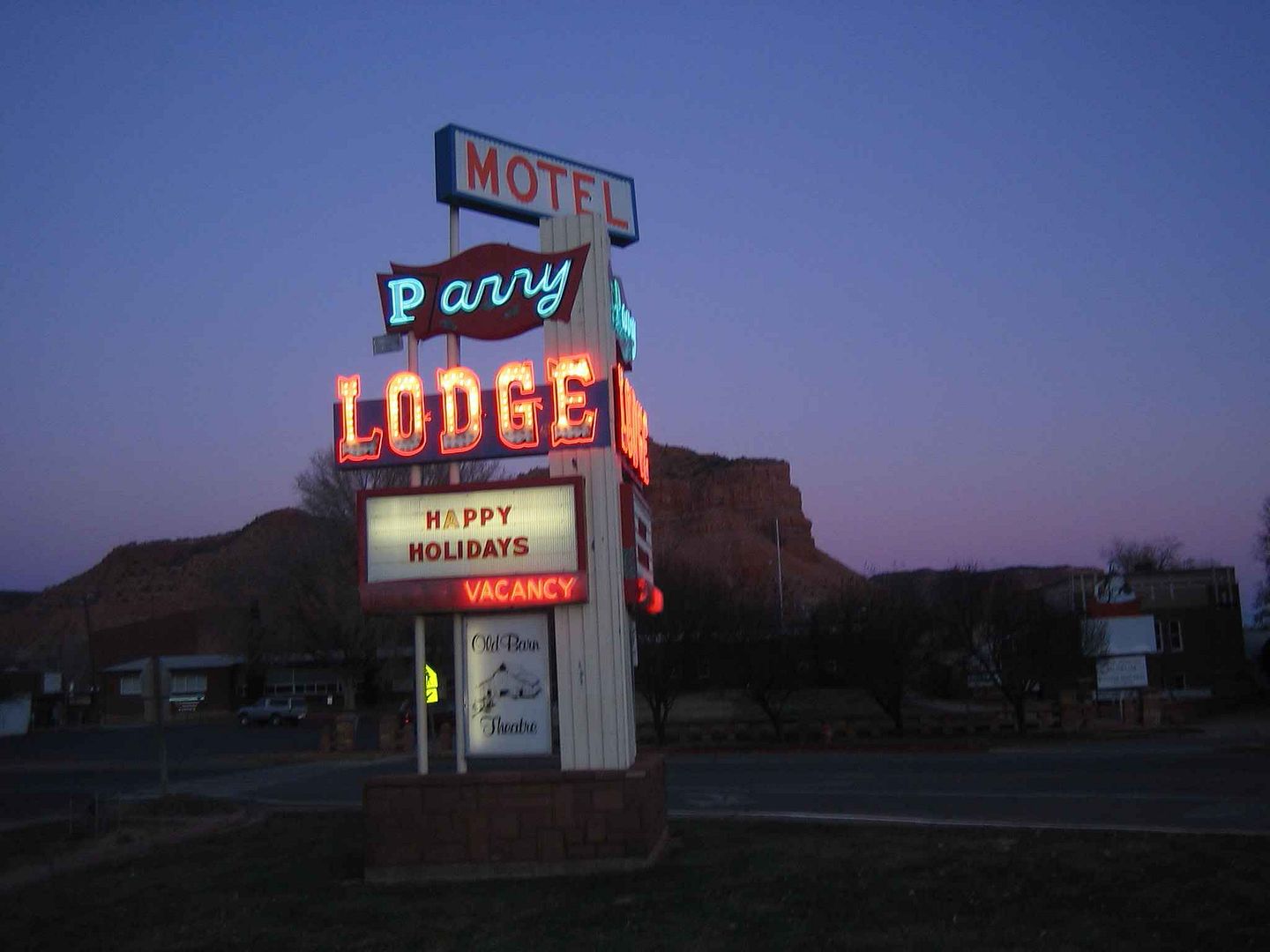 I Liked This Sign
+++
I was going to try and do this photo essay in two parts. Guess what: I'll finish this meandering bit of Americans tomorrow or Tuesday. Come back to Correntewire and visit the Hawaiian Motel Deity in Baker, California. You'll be confused that you did.

Martian Guards Thrift Shop, Kanab, Utah
+++