United we succeed; divided, we get Old Man McCain
Help: Blog
[X]

A blog (from "web blog") is a discussion or informational site consisting of discrete entries ("posts") typically displayed newest first. All Corrente posts are front-paged; there is no up-rate or down-rate process. Corrente posts are almost entirely community moderated. We encourage a clash of ideas, and do not encourage a clash of persons.

If you are the author of this post, see the Edit tab ad Help (and Advanced Help) for detailed documentation.
Submitted by

bringiton

on Wed, 02/27/2008 - 5:07am
This wonderful discussion we're having around our remaining two fine, upstanding presidential candidates has provided an exchange through which we may, when done, have learned that Hillary Clinton is not a cold-hearted opportunistic scumbag but a good, decent, warm, substantial, thoughtful and interesting woman and that Barry Obama is not a vacuous opportunistic scumbag but a good, decent, warm, substantial, thoughtful and interesting man.
Not swearing that will be true, not saying it for certain, but I am hoping it will be. What I am certain about is that while we work through this process it is critical that we not lose sight of the most important task ahead of us – the defeat of John McCain and the Republican Criminal Conspiracy he represents.
It may be that the disagreements over our candidates' policies and capabilities are magnifying differences out of proportion to reality. It may be that the policy differences between Clinton and Obama are small when compared to those of the NixonReaganBushMcCainVRWC dynasty. But with all the time invested inconsideration of funny costumes and brochure symbols and style and tears and dog-whistles and sniffly noses, who has time to, ah, get down into the weeds?
Admittedly, sorting through all of the position pieces and voting records and speeches seems an infinite task. One of the reasons it is difficult is that the VRWC has made a hash out of so many things that it is not a matter any more of focusing on two or three issues and deciding on that basis. So many aspects of life have been made critical, both foreign and domestic, that digging out and interpreting all of the positions of the candidates on all of the issues that matter is in fact both overwhelming and confusing. It may be helpful to let someone else do the heavy lifting and then step back to look at a simple summary of the candidate's positions from a third-party overview, such as can be had through a policy evaluation site such as OnTheIssues.
These fine folks take the voting record, speeches, policy statements, news clips and everything they can find on the record from a particular public figure and use them to answer an extensive questionnaire covering a wide range of political positions. After taking an abbreviated version myself it is true that some of the questions are not exactly clear, and some of them are difficult to answer in a simple manner, but on the whole it does seem to be fair and comprehensive. (Believe someone here at Corrente wrote about OnTheIssues but I couldn't find it; let me know and I'll put in the link. Update Thanks to Shane-O below for the link to an earlier post by Lambert on a similar asessement test.)
Once the questions are answered and scored, the result ascribes a position on the political spectrum from Liberal to Conservative and from Populist to Libertarian. The policy answers for each candidate and the resulting diagrams can be found here. For comparison here are diagrams for Obama, Clinton and McCain with John Edwards also included.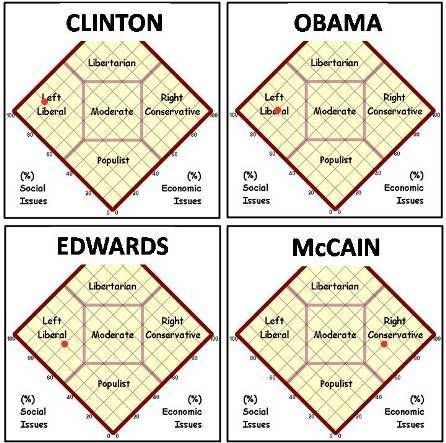 In this assessment, there is not a lot of difference between Obama and Clinton and both of them appear to be quite close to Edwards. What this makes strikingly clear, and where all of us most importantly need to be clear, is that they are all of them far, far away from McCain.
I don't want to over-value this little test. It is at best an informed guess at what the candidates actually think, and even more speculative in terms of what they will do once in office. Additionally, it is only two dimensional and there is the highly important third dimension of track record, the length of time they have held their positions, and that is not shown here. Still, it may be of some comfort that, on the issues, our people are reasonably liberal and we may reasonably expect that they will actually advocate from that position.
What this comparison does do is clearly highlight is how horribly bad John McCain is politically, and what a nightmare he will be for the country. Whatever happens in the Democratic primary, we all of us will need to put aside our differences, pull together for the general election and vote to defeat the forces of evil that will, if not stopped, destroy America. It is that serious.
On a lighter note, because surely someone must be dying to know how far into the authoritarian Fascist brutal taser-fiend zone I must have scored, here's my grid: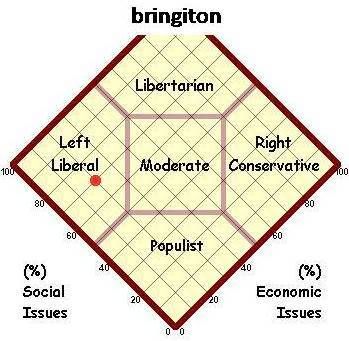 Be damned. Exactly the same as John Edwards. All I can say is, there's much about that young man's political philosophy to admire.