The Fires This Time
Help: Blog
[X]

A blog (from "web blog") is a discussion or informational site consisting of discrete entries ("posts") typically displayed newest first. All Corrente posts are front-paged; there is no up-rate or down-rate process. Corrente posts are almost entirely community moderated. We encourage a clash of ideas, and do not encourage a clash of persons.

If you are the author of this post, see the Edit tab ad Help (and Advanced Help) for detailed documentation.
Submitted by

MJS

on Mon, 10/22/2007 - 3:16pm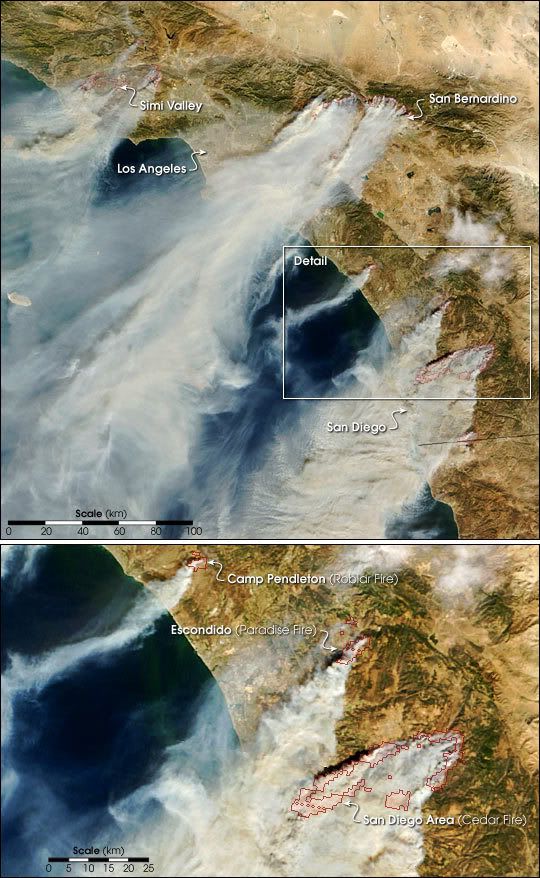 This is shaping up as a really long day...
California wildfires force mass evacuations.
The BBC provides additional information...
USA Today and the L.A. Times, via its corporate sibling the Chicago Tribune, has a post up here.
And on a day of Santa Ana winds, the Daily Breeze has coverage as well.
Gonna be a long, long day. My ex lives with her husband in Deer Lodge Park (Lake Arrowhead), much of which seems to be in flames at this hour. I have a sister in the Irvine area: the company she works for on Portola Rd. is preparing to evacuate. My parents have been trying for over a year to sell their home in Ramona (they moved to a retirement community in Seal Beach)...today, their fair city of Ramona (36,000 residents) was evacuated. Four years ago my parents were evacuated from their home during the Cedar Fire calamity. Fire. Fire. Fire.
My move to Oregon has been postponed (for a couple of reasons) though I hope to be up there in the spring. Its wet, green environment (west of the Cascades, anyway) looks awfully wonderful right now. In the meantime, I watch the news and worry.
++++
Image from here*.
*This image is actually from 2003 (alert reader tp pointed out the correct date of the images situated at the top of this post). The characteristics of the SoCal wildfires in October of 2003 are nearly identical to today's fires (Oct. 22nd, 2007) in some easy to identify ways: the combination of heat, Santa Ana winds and downed power lines/transformers (the Irvine fire is said to have been caused by an arsonist) converging for a hellacious confab.
Tp provided links to a few more images of our current fires, one of which I post here:
++++