Terrazzo
Help: Blog
[X]

A blog (from "web blog") is a discussion or informational site consisting of discrete entries ("posts") typically displayed newest first. All Corrente posts are front-paged; there is no up-rate or down-rate process. Corrente posts are almost entirely community moderated. We encourage a clash of ideas, and do not encourage a clash of persons.

If you are the author of this post, see the Edit tab ad Help (and Advanced Help) for detailed documentation.
Submitted by

ohio

on Sat, 08/09/2008 - 1:42am
People have used marble chips, seashells, glass, and even porcelain from busted up toilets to create terrazzo. Basically, a cementious layer (concrete, lime-based, or now epoxy-based) is skimmed over a base, and then the aggregate is either tossed in or placed by hand and trowelled in. Then you grind.
I want to put some terrazzo in the entryway and the mud room. We stuck some plywood in the slab so I'd have a bit of depth to work with. I'll be taping off the mudroom floor to define the area I'll be working, but I think I'll do the entire entryway floor. So yesterday I set up a test. I had two questions: 1) if I put down a color coat, how would it affect the final finish and 2) how will my grinding technique affect the glass---will the glass snap off, fly across space, and embed itself in my eye?
I built a little form for a 12"x12" concrete paver (the kind you can get for a buck at the local hardware store).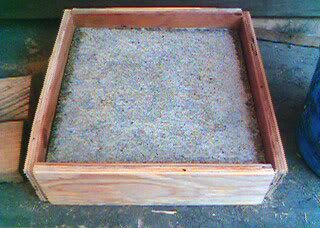 Then I splatted on a blue color coat. I'm not using a blue for the terrazzo I have planned, but I wanted to see what it could do. I love this color blue as a pigment---it's so saturated and deep---but the minute I add it to anything, it just gets weak and lame and sad. But I love cobalt blue glass.
I then placed some blue glass blue glass from a wine bottle I smashed, and then chucked the bits into a rock tumbler to get rid of the sharp edges.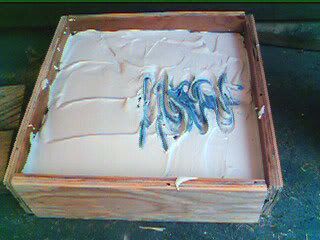 Then I layers on a finer cementious layer and messed with it a little, and let it cure overnight. If you don't use a trowel, it's more like frosting a cake than plastering.
The next morning, I knocked off the form and set the paver on a piece of plywood. I have two grinders set up for use. The first is a cheapie with a concrete 25-grit grinding wheel on it, while the second is also a cheapie but not as cheap as the first. I modified a hook and loop wheel so I can just slap the diamond pads on as I go.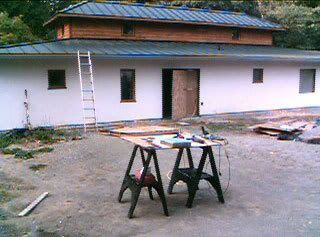 Oh, that's the front of the new house and our evil ladder.
I use the 25-grit grinding wheel for concrete for a first pass, and then successively use diamond pads at 50, 100, 200, 400, 800, 1000, 1500, and 3000 grits. Concrete won't do much more after 800 grit, but I use two overlays (the last coat finer than the other) to get a certain finish quality, so that micro-finish and the glass in these pictures are ground to 3000-grit. If I were doing stone, I'd probably take it 5000 or 6000 depending, but 3000 is fine for this. With diamond pads, it's best to go slower than you would think. The adhesives used to keep the diamonds attached to the pad will overheat and fail a lot sooner and these babies cost some money.
Terrazzo was traditionally created with a lime-based plaster. I could test one---I have five-gallon buckets of aged lime putty to experiment with. This material is from Niagara, a plaster manufacturer that specializes in making materials for historic buildings. I talked with a guy there who was clearly a savant in all things plaster. He could just rattle off this stuff about different plaster mixes on all these structures all over the world, and he'd done extensive research on lime and straw building techniques.
Lime is born angry. Remember at the end of the movie, "Amadeus," when they chuck Mozart's body in the common grave and then throw the white stuff on him? The white stuff was quicklime. It is highly caustic. Lime putty is made by mixing lime putty and water and letting it bubble and steam and hiss at you. I didn't mix it---I mean, seriously, that stuff will burn you to the bone. In England, though, some people have small lime pits in the garden as a supply for limewash, because limewashing is still used on some structures. They'll also use bags of lime on roadways that are being built. I watched a guy drop and rake several bags of the stuff. I got off my motorcycle, walked over to him, and asked him why he was doing that. "To stabilize the ground, love."
I got this lime putty from a guy was going to throw away. He had half a fifty-five gallon drum of it leftover from when his daughter had plastered a garden wall. She had done a Venetian style of plastering and like a lot of Venetian plaster jobs, it required a buttload of burnishing, "burnishing" being another word for rubbing the surface until it's hard and shiny. You can burnish with a trowel, a piece of leather, or even the plastic lids of cottage cheese containers.
I may or may not add a lime plaster coat to an interior wall. We definitely will be clay plastering the living room walls in a color the fab GF describes as cantaloupe. It isn't really cantaloupe colored, but she admits that she related colors to food. This tickles me to know end, I must admit. Clay plaster is easy to work and takes a long time to dry, so I'm feeling pretty good about our chances of getting a good finish.
We'll be limewashing the exterior of our house white every couple of years. Stucco cracks. The challenge is to find a way to seal the cracks that doesn't mess up the wall. A lot of people use caulking, but damn, it's ugly. A limewash is essentially the water sitting on top of lime putty, kind of a watery milk thinness and color. Limewashes turn back into limestone when they dry. But you have to roll on, like, ten coats to get a good limewash, which means a kegger to get enough people to help, and lime will, as I said, burn you.
When I cleaned out the fifty-five gallon drum, I ended up chucking the hand spade I was using aside and just grabbing it with my gloved hands. My skin got a little damp, but I didn't think much about it until I dried off. The top layer of my skin sloughed off. Like a sunburn only I hadn't gotten sunburned, and it came off in little pieces. Kinda gross.
Kinda gross, but in a different way was the dirty gray showing up in the white.
A chunk of lampblack mixed with machine oil fell out of the grinder and I ran right over it before I saw it. Ick.
All the grinders (I have half a dozen or so) will have to be taken apart and thoroughly cleaned before I do the other terrazzo. And I'll need another set of diamond grinding pads, maybe I'll wet grind if I'm inside. Grinding creates a lot of dust---I wear high-impact plastic eye goggles, a respirator, and ear protection when I'm grinding. Yes, quite attractive in that take-me-now sort of way.
I'm thinking the finished terrazzo will have a lot of small pieces of cobalt glass with either a bright yellow or deep orange background. The fab GF thinks the test is pretty. "It looks like a bowling ball."
God, I love her.