slavery
Submitted by

Tony Wikrent

on Mon, 04/11/2011 - 10:03pm
Submitted by

DCblogger

on Mon, 01/26/2009 - 10:22am
Submitted by

FrenchDoc

on Tue, 08/05/2008 - 10:49pm
Cross-posted from The Global Sociology Blog.
Things that suck
Another session, another !@#$ baby.
The universe turning against you:
Being delayed at Logan Airport long enough to see O-Force One (Change you can believe in!!) for the big birthday bash, apparently.
Sitting on the plane next to a woman (with young child!) wearing a pink "Obama Mama" shirt (that'll teach me to upgrade to Economy +)
Driving home in the biggest !@#$ thunderstorm with lighting that makes you think you're in a rave party.
The Thing that Really Sucked
Kevin Bales did not show up for the session on human trafficking and slavery. Damn, I really wanted to see him, he's my hero!
Putting a session on such an important topic as human trafficking (which definitely fits with the general topic of labor) on the last day, where most people have already gone home.
Things that don't suck
The session on human trafficking and slavery, which had two very interesting contributions.
Read more

about General Suckitude and Non-sucky Session on Sucky Topic
Submitted by

lambert

on Sun, 10/07/2007 - 3:27pm
Submitted by

chicago dyke

on Thu, 10/04/2007 - 1:04pm
Submitted by

Sarah

on Sun, 09/02/2007 - 10:46pm
Submitted by

MJS

on Mon, 05/28/2007 - 2:16pm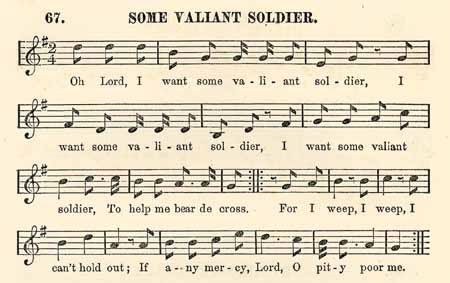 Image of music and lyrics from the electronic edition of http://docsouth.unc.edu/church/allen/allen.html">Slave Songs of the United States.
Submitted by

Xenophon

on Wed, 04/18/2007 - 9:59am
Hate the players and the game
She speaks Cebuano, Tagalog, Spanish, Korean, Japanese, and English – never finished the sixth grade – and gives head like a dream. This is what she tells me as I bum a square. A Marlboro light that smokes like a filter-less camel – we'll talk about that later.
She left the province to come to Manila to find work because there was no money at home. At sixteen she and her childhood sweetheart had their twins. By the time they were four he was married with a child on the way and she answered an ad for a massage parlor. Read more about Notes from the front lines of the sex slave trade
Submitted by

chicago dyke

on Sun, 02/11/2007 - 10:57pm
Submitted by

chicago dyke

on Tue, 01/30/2007 - 11:20am