Bread
Submitted by

jerztomato

on Thu, 12/06/2012 - 8:17pm
Quercus pecunia "Lambertus"
Lambert's money tree, peanuts, cabbage, clams, dough, bread, sawbuck, buck, greenback Read more about 3-Day Weekend Plantidote 2012-12-07
Submitted by

ohio

on Sun, 08/22/2010 - 7:48pm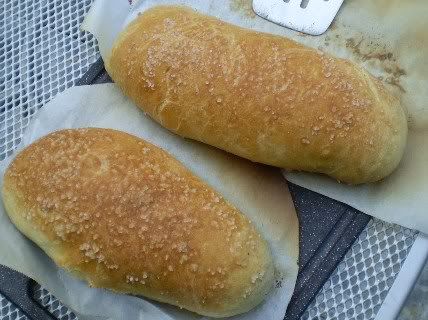 4 c flour (and a cup or so in a separate bowl)
1 packet yeast
1-2 tsp salt
2 c warm water
Olive oil Read more about Warning to bread cowards: avert your eyes
Submitted by

ohio

on Fri, 08/20/2010 - 8:20pm
Sourdough starter instructions here.
(Keep in mind that I built an earth oven for baking bread, so I tend to go a little overboard on these things. But bread is for me a delightful thing, something that is nourishing physically and aesthetically.)
Sourdough requires a sponge---basically the dough for the rest of the dough.
Take your starter from the fridge and let it come to room temperature. Empty it into a bowl and clean it's mason jar or whatever you're using to store the starter.
Add to the starter
1 c warm water
1 c flour Read more about Sourdough
Submitted by

gob

on Sun, 09/14/2008 - 12:23pm
It was my friend K who introduced me to good food. I'm invited there for dinner tonight and she has honored me by asking me to bring my olive bread. She is a gifted cook, a provider of reliable wines, and a treasured person, and we fear we might lose her soon. Read more about Sunday morning olive bread
Submitted by

captain nemo (not verified)

on Sun, 07/29/2007 - 10:40pm
Time for a break and to think about happy sweet things:

PEACHES:
Pain perdu with peaches and vanilla

Serves 4 :Pain perdu or "lost bread" was originally conceived by the French as an ingenious way of using up leftover bread or brioche. It's also known as French toast or eggy bread, or tostado in Spain. This version is more sophisticated, the brioche almost turns into a custard-like fried slice.