Raspberries
Help: Blog
[X]

A blog (from "web blog") is a discussion or informational site consisting of discrete entries ("posts") typically displayed newest first. All Corrente posts are front-paged; there is no up-rate or down-rate process. Corrente posts are almost entirely community moderated. We encourage a clash of ideas, and do not encourage a clash of persons.

If you are the author of this post, see the Edit tab ad Help (and Advanced Help) for detailed documentation.
Submitted by

ohio

on Mon, 07/26/2010 - 11:08pm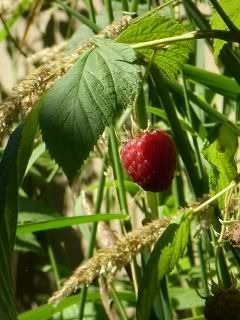 My neighbors told us to pick all the raspberries we wanted. She had picked gallons and froze them for jam and syrup later. They hadn't even eaten all the raspberries from last year, so I offered to help process them this fall when it's cooler.
There are two varieties of berries here. I don't know their names, though one is smaller, sweeter, and more numerous. The cane is similar to that of the native blackberry that grows here, a bluish-green with very fine stickers. The other has much larger, showier berries, easy to see among the green. I picked both kinds, lifting canes and looking under the more obvious places for clusters of perfect fruit.
We had berries with cream for breakfast Saturday, Sunday, and today. There are still berries to be picked tomorrow.
This morning I gathered 2/3 of a coffee can in about forty-five minutes. Already the sun was hot. The canes had at one time been trained to a fence, but have since suckered out and have tall strands of canary grass growing alongside. The canes are a mess.
I left handfuls of ripe berries near the gate. I figure when my neighbors walk in and out, either can grab some berries. I noticed some berries overripe and shrivelled. Each of my neighbors has walked past here and ignored what's being offered.
They are falling apart.
Yesterday I sat with my neighbor so he could feel a little less alone. Today I picked berries and offered to help her make use of what she's always made use of. They are done and they know they're done but stay out of fear of poverty. Together, they will have a roof over their heads. Apart, no roof. No safety. They have no health insurance, no jobs, no savings, no credit. He has a small pension. He's a cancer survivor. She has had her unemployment benefits extended, a serious heart condition, not a single job prospect, and a worthless son.
I can't do anything but remind him of his plans and schemes and devices he wants to build, so he forgets about the .45 in the drawer. I make her laugh as I can be quite amusing. Their future looks bleak and dull and lonely.
And yet the berries are sweet. I made a cobbler with a little too much lemon zest and not enough vanilla. But the berries tasted like sunshine.