Osama bin Laden, Superstar
Help: Blog
[X]

A blog (from "web blog") is a discussion or informational site consisting of discrete entries ("posts") typically displayed newest first. All Corrente posts are front-paged; there is no up-rate or down-rate process. Corrente posts are almost entirely community moderated. We encourage a clash of ideas, and do not encourage a clash of persons.

If you are the author of this post, see the Edit tab ad Help (and Advanced Help) for detailed documentation.
Submitted by

MJS

on Tue, 08/29/2006 - 3:38pm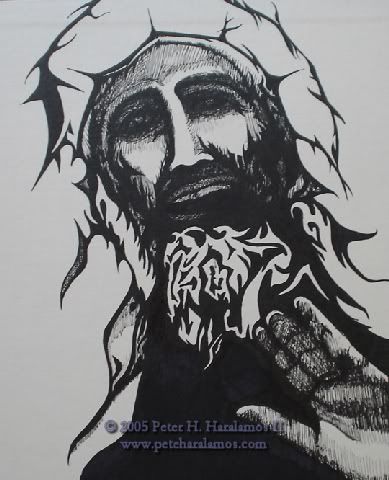 General JC Christian dug into the past and uncovered some guy named Osama bin Laden. Probably made him up out of whole cloth. Or a burkha.
Anyway, I was moved to write some lyrics...
I Don't Know How to Thank Him
I don't know how to thank him
What to do, how to spank him
I've been used, yes really used
In these past few years, when I've seen the tears
I feel like someone else
I don't know how to shake this
I don't see why he uses me
He's a tool
He's just a tool
And I've had so many tools before
In oh so many ways
He's just a whore
Should I visit his ranch
Should I call him out?
Should I speak of Rove
Let my jihad out?
I never thought I'd come to this
What is George about?
Don't you think about the Sunnis
I should reap the whirlwind
I'm the one, Osama bin...
So right to rule, not Cheney's fool,
Running the whole show
He dares me so--hah!
I never thought I'd say this:
What is George about?
Yet, if he said he loved me,
I would blush, I'd be excited
I wouldn't mope, I'd rope-a-dope
I'd leap from bed. I'd talk & say:
I think that you should know
He is my bro
It's truly so
He let me go
+++
And should you find yourself humming at the water cooler, don't forget to add lyrics:
Osama bin Laden, Superstar
Osama, hey-sama, sama-sama ho
Sama-hey, sama-ho-sama
Hey George B., George B.
You forgot about me
Sama-ho, sama-hey, Superstar!
+++
*Osama Bin Laden appeared in Summerstock Theater in Nebraska, Iowa and Utah this past July and August. "Osama bin Laden, Superstar" recouped its investors' funding.
+++
Why does the General inspire me so? Why is this Manly Man such a Muse to my Madness? Because, damn you! Because!
+++
Image from here.
+++