"One-Year" Gitmo Apologists, Please Read - Year Six (?)
Help: Blog
[X]

A blog (from "web blog") is a discussion or informational site consisting of discrete entries ("posts") typically displayed newest first. All Corrente posts are front-paged; there is no up-rate or down-rate process. Corrente posts are almost entirely community moderated. We encourage a clash of ideas, and do not encourage a clash of persons.

If you are the author of this post, see the Edit tab ad Help (and Advanced Help) for detailed documentation.
Submitted by

okanogen

on Thu, 02/06/2014 - 10:04am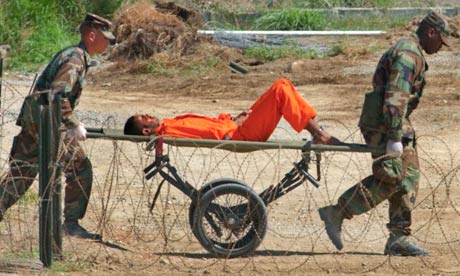 Six years later and only a handful of people have been released. If you feel like puking for a little while, read this.
Of course, everyone of the steely-eyed realist Obama supporters who were one-year gitmo apologists have long left this building, and saying "I told you so", gets old after 5 years (hell, I think I missed last year), but now, supposedly, with no major accomplishments possible, Obama has announced he will do via executive order (royal fiat), what he "cannot" do through Congress. Well, just for starters Barak, why don't you end this abomination and either set these people free (since the vast majority have committed no provable crime at all), or send them to some country where their accused crimes can be prosecuted? Obviously some of these people really are mass-murderers, and get no sympathy from me, but they should be tried for their crimes like anybody else.