Mr. McCain's Neighborhood
Help: Blog
[X]

A blog (from "web blog") is a discussion or informational site consisting of discrete entries ("posts") typically displayed newest first. All Corrente posts are front-paged; there is no up-rate or down-rate process. Corrente posts are almost entirely community moderated. We encourage a clash of ideas, and do not encourage a clash of persons.

If you are the author of this post, see the Edit tab ad Help (and Advanced Help) for detailed documentation.
Submitted by

MJS

on Wed, 03/28/2007 - 1:14am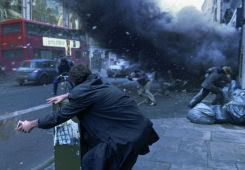 (WIDE SHOT, ZOOMING IN AS JOHN MCCAIN WALKS THROUGH A TYPICAL BAGHDAD NEIGHBORHOOD)
McCain (TO CAMERA):
It's a beautiful day in this neighborhood
A beautiful day for a neighbor (INCOMING!)
Would you be mine?
Could you be mine?
It's a neighborly day in this beautywood,
A neighborly day for a (KABOOM!)
Would you be mine?
Could you be (GUNFIRE)?
I have always wanted to (IED EXPLODES) just like you
I have always wanted to live in a (SNIPER FIRE) with you
So let's make the most of this beautiful day,
Since we're together (HELICOPTER RETURNS FIRE)
Would you be mine?
Could you be mine?
Won't you be my (MORTAR FIRE, SCREAMS, SIRENS)?
Won't you please,
Won't you please,
Please won't you be my neighbor?
Medic! Medic!
+++
More at Crooks & Liars.
Image is from Children of Men and in no way is meant to represent bombs that go off in major cities in Iraq. Sign up now for a Walking Tour of Baghdad with John McCain as your (FIRE IN THE HOLE!)...
+++