Life in the Gas Lane: Living with Drilling, Part II-c
Help: Blog
[X]

A blog (from "web blog") is a discussion or informational site consisting of discrete entries ("posts") typically displayed newest first. All Corrente posts are front-paged; there is no up-rate or down-rate process. Corrente posts are almost entirely community moderated. We encourage a clash of ideas, and do not encourage a clash of persons.

If you are the author of this post, see the Edit tab ad Help (and Advanced Help) for detailed documentation.
Submitted by

PA_Lady

on Sun, 06/20/2010 - 1:00pm
[Welcome, Naked Capitalism readers! --lambert]
Read the previous posts: Part I, Part II-a, and Part II-b.
Photos below from Peacegirl's blog, Gas Wells Are Not Our Friends, where she's been covering the drilling issues for the past two years.
Our changing landscape
Large swaths of Bradford County have the look of a rural postcard -- rolling, forested hills, green fields edged with hedgerows and trees, neat farmhouses and barns surrounded by acres of open land. The rural nature of Bradford County is one of the reasons why people relocate here, and why many choose to stay after high school or, like myself, returned to raise our children.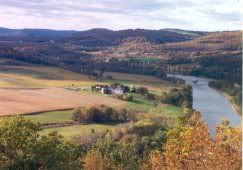 Overlooking French Azilum in Bradford County PA
A great many residents, even those who don't live in the countryside, wonder exactly what the county will look like once drilling rigs are scattered across the landscape.
Each site requires 1-5 acres of cleared land during the drilling stage, plus access roads. After that, each well has to be connected to pipelines being laid across the county. For the most part, the pipeline is below ground, but in order to place it, trenches must be dug. All this, in a forested area (and we're pretty wooded) means clear-cutting. In hilly areas, land must be leveled to create the well pad, which can mean shaving the tops off hills. Even in open areas, land must be bulldozed and graded.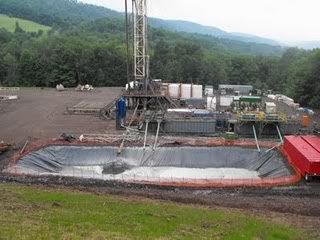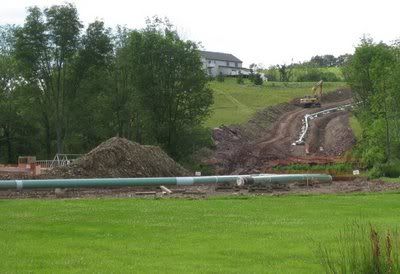 Bradford County gas well. Pipeline trenching.
Imagine this, but at 1,000+ wells. Just what will Bradford County look like in two years, in five, in twenty??
Residents also worry about how all this construction and the wells themselves will affect hunting and fishing, two popular activities in the area. We don't really know how the wildlife will be affected in the near- and long-term. Not just by the drilling activities, but by the inevitable pollution those activities will bring. Will we see population declines as a result of deer and other wildlife relocating or die-offs as a result of poisoning by fracking fluids? There are questions about what would happen if a hunter accidentally shot a well or a drill rig. Can they explode? No one seems willing or able to answer any of these questions.
Anglers are, of course, worried about the effect water pollution will have on fishing, especially some of our more renowned trout streams, many of which are located rather close to drill sites.
In addition, as I'll cover in the next section, this has an economic component. For all that we enjoy complaining about those darned Jersey hunters in our woods and those crazy anglers who crowd our streams, we also recognize that the reasons they come here are the same ones we have (or had) for living here.
One new wrinkle appearing just in the last couple weeks is that, although the gas companies' lease agreements say they will restore the land once they finish drilling, trenching, and what-have-you, what constitutes "done" is debatable. Apparently (and I haven't confirmed this yet) as long as the company leaves one piece of equipment at the site, they can claim the work isn't completed, meaning they can't be forced to reclaim the land.
Even if they really follow through, how do you restore a mountain top? How do you restore the contaminated soil? How do you restore the sources of drinking water?
All in all, the environmental impacts of drilling will be the most lasting, far beyond any economic or social ones.
In Part III, the economic impacts in Bradford County.
- - -
Once again, I throw out the caveat that, like the previous post, my comments are based on my personal observations, conversations with friends and family, community discussions, and local newspaper articles.
And I add the warning that this is based on my experiences, mostly in the Wysox and Towanda area. I can't really speak for the effects (except in very general terms) in other towns and communities. Some things are county-wide, some seem limited to (or worse in) my area, possibly because it is roughly at the center of the county and is the county seat.