Let's Leave Iraq!
Help: Blog
[X]

A blog (from "web blog") is a discussion or informational site consisting of discrete entries ("posts") typically displayed newest first. All Corrente posts are front-paged; there is no up-rate or down-rate process. Corrente posts are almost entirely community moderated. We encourage a clash of ideas, and do not encourage a clash of persons.

If you are the author of this post, see the Edit tab ad Help (and Advanced Help) for detailed documentation.
Submitted by

MJS

on Fri, 07/14/2006 - 2:52am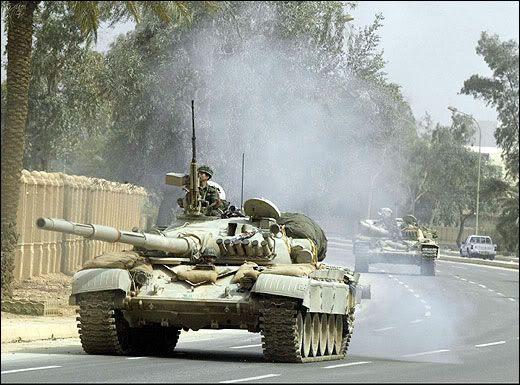 Let's Leave Iraq
(With apologies to Randy Newman)
Hate Kuwait City
It's old and it's cramped
And all the people there dress like Spa-creeps
Let's leave Fallujah to the IEDs
That town's a little too explosive
For you and me, you brown girl
Rolling down
Basra Highway
With a big nasty Burkha at my side
Scirroco blowin' in hot from the north
We were born to die
Blow out the windows, blow off the top
Crank up the Dixie Chicks, baby
Don't want no music cops
We're gonna drive it till we just can't stay on the road
From al-Basra down to Mosul
From the Tigris and Euphrates
Everybody's very nervous
'Cause the guns are shootin' all the time
Looks like another fucking day
Let's leave Iraq (done with it)
Let's leave Iraq (done with it)
Look at that fountain
Look at those police
Look at that corpse over there
We brought democracy
Look at these children
Their future's buried somewhere
Angry Shiite Muslims (We got 'em)
Angry Sunni Muslims (We got 'em)
End Timer Christianists (We got 'em)
Sufis! (We got 'em)
Let's leave Iraq
Let's leave Iraq
(Done with it)
Etc.
+++
Image of a Pleasure Vehicle from here.
+++