Jesus Blown Into Very Small Pieces by IDF--"He Was Shielding Enemies" Claims Israel
Help: Blog
[X]

A blog (from "web blog") is a discussion or informational site consisting of discrete entries ("posts") typically displayed newest first. All Corrente posts are front-paged; there is no up-rate or down-rate process. Corrente posts are almost entirely community moderated. We encourage a clash of ideas, and do not encourage a clash of persons.

If you are the author of this post, see the Edit tab ad Help (and Advanced Help) for detailed documentation.
Submitted by

MJS

on Sun, 08/06/2006 - 9:07pm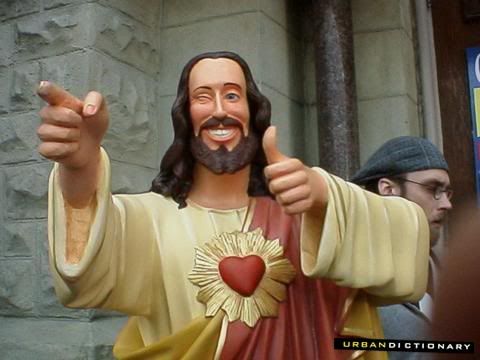 Iconic image of Jesus the Christ in a "Can Do" happy moment just minutes before He was obliterated on the road to Damascus
The World Reacts
Israel feels "Really, really bad" over "accidental deicide" in a "non-binding way," vows "to not kill any other mythological constructs provided said constructs are not shielding Hizbullah"
"Oops, I Did It Again" soars to #1 on Radio Tel Aviv
Death of Jesus unsettles White House: George W. Bush not sure if he "...should pray to Moses or Abraham or some other Jew boy."
Really depressing moment of silence observed at all Major League Baseball games
Mithras, Tammuz, Osiris, Dionysus to appear at benefit for Jesus' survivors
Catholic Church denies positioning snipers at Jesus' Survivors' Benefit
Mel Gibson doesn't know whether to shit or go blind
FOX News shits itself, goes blind
+++
Image from Urban Dictionary.
+++