It's What's For Dinner!
Help: Blog
[X]

A blog (from "web blog") is a discussion or informational site consisting of discrete entries ("posts") typically displayed newest first. All Corrente posts are front-paged; there is no up-rate or down-rate process. Corrente posts are almost entirely community moderated. We encourage a clash of ideas, and do not encourage a clash of persons.

If you are the author of this post, see the Edit tab ad Help (and Advanced Help) for detailed documentation.
Submitted by

mike flugennock

on Thu, 10/28/2010 - 8:32am
Here's another piece inspired by an article I saw at one of my all-time favorite Leftie blogs, Stop Me Before I Vote Again — specifically, this entry, containing an especially pithy comment by another one of my Leftie blogozone faves, The Drunken Pundit, who comments:

…With both parties fully in the grip of the industrial-financial-military complex of the American Empire they have to serve up shit sandwiches to everyone but they each need their own distinctive flavor of shit in order to differentiate themselves…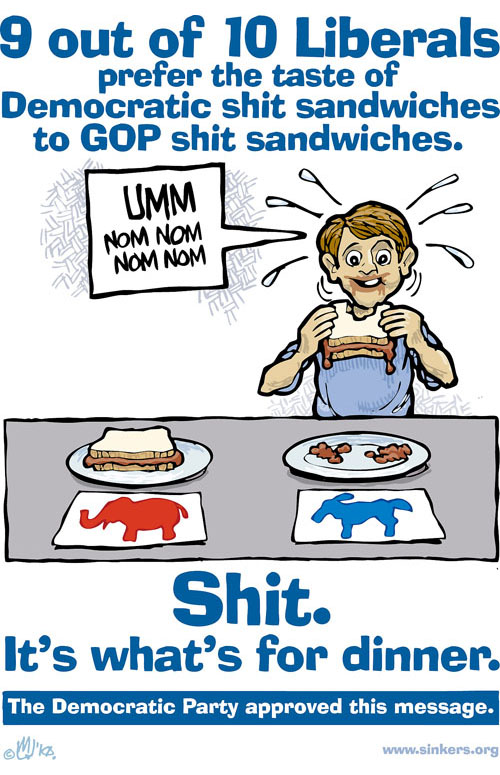 I honestly can't think of anything else to add to this succinct and elegant analysis — at least not in written words — so, I'm not going to waste time blathering here this time, and just get on with the cartoon...