It's only Indoctrination if w ain't doin' it this time
Help: Blog
[X]

A blog (from "web blog") is a discussion or informational site consisting of discrete entries ("posts") typically displayed newest first. All Corrente posts are front-paged; there is no up-rate or down-rate process. Corrente posts are almost entirely community moderated. We encourage a clash of ideas, and do not encourage a clash of persons.

If you are the author of this post, see the Edit tab ad Help (and Advanced Help) for detailed documentation.
Submitted by

Sarah

on Mon, 09/28/2009 - 11:12pm
I mentioned earlier that many schools had decided not to show, live, the President's address to school children on the first day of his daughters' new school year. Now we're finding out that at least a few of those schools' claims they had no room in the curriculum or the class day for the address were (gasp) truthiness in service of obfuscation. Hat tip to the Lone Star bloggers at WhosPlayin.com who earlier broke the news that Lewisville ISD (outside Dallas) had forbidden teachers to show the speech even if parents could opt out.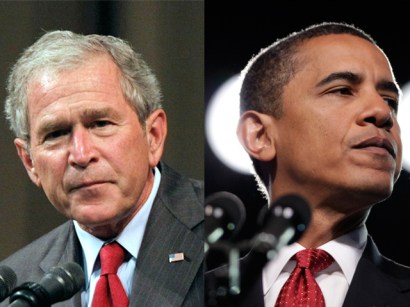 Oh, and another Metroplex school that refused to show the speech bused kids to an appearance at Cowboys Stadium -- to see w, naturally. Nothing about this
had anything to do with partisanship, the Republicans' wish to create an oligarchic theocracy and destroy our public schools to do it, or Barack Obama's title or appearance, of course.