Hueco
Help: Blog
[X]

A blog (from "web blog") is a discussion or informational site consisting of discrete entries ("posts") typically displayed newest first. All Corrente posts are front-paged; there is no up-rate or down-rate process. Corrente posts are almost entirely community moderated. We encourage a clash of ideas, and do not encourage a clash of persons.

If you are the author of this post, see the Edit tab ad Help (and Advanced Help) for detailed documentation.
Submitted by

Sarah

on Thu, 04/30/2009 - 5:50pm
Note: This is a continuation, since y'all asked for more, of my previous post, So Last Thursday We Saddled Up For A Three Days' Ride.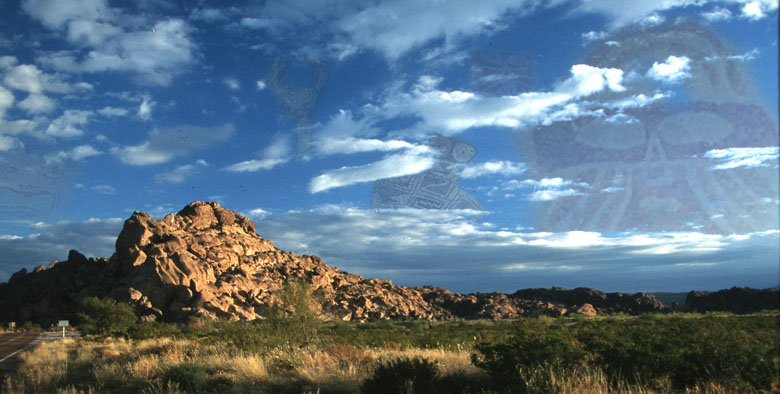 Image courtesy of Texas Parks and Wildlife
You may have heard of Hueco Tanks. Hueco Tanks is one of Texas' newest State Parks -- and among its most famous, having been profiled in a number of magazines including Southern Living. Climbing magazine online has this quote and image:
In the 1980s, Hueco Tanks earned an international reputation as a top rock-climbing spot, especially during mild winter months. In addition, a growing number of school groups from El Paso and throughout West Texas find the park to be an outstanding outdoor classroom.

Because of graffiti and other past damage to some of Hueco Tanks' invaluable archeological treasures and its fragile desert ecosystem, park users' access to the park has been limited in recent years in accordance with a public use plan. Park visitors must watch a 20-minute TPWD video that explains the history of Hueco Tanks, the importance of conserving its natural and cultural resources, and defines the park's self-guided and guided-only areas.
The site used to be one of the world's most popular, and remains among the premier, destinations for rock climbers. These days -- as people often do, in previous years


people abused Hueco Tanks -- the fragile desert watering place with its connections to the past has tighter access controls, and some of them come from the climbers themselves:
TPWD, which operates Hueco Tanks, and the climbing community haven't always enjoyed such favorable relations, so park staff were impressed that Hueco Tanks climbing coalition president Nikias Kiehnle and fellow climber Andy Klier came to them with the request for the temporary closure after they noticed the nest under the Grenade Boulder overhang.

Canyon wrens, as with all native birds, are protected by various federal statutes. The attractive songbirds are uncommon to locally common permanent residents in the Trans-Pecos and Texas Hill Country, TPWD wildlife biologist Mark Lockwood said.

While the Grenade Boulder climbing route is temporarily closed, dozens of other comparable climbing routes remain open in the park's North Mountain self-guided area.

Preservation of Hueco Tanks State Park and Historic Site's cultural and natural features is the site's primary mission and is required by law. Some climbing routes have been permanently closed over the years to protect archeological sites and other resources. But the park's mission also requires that the public be afforded recreational opportunities, and the staff works with affected user groups to try to accommodate their needs and provide the best visitor experience possible.

TPWD archeologists in 2007 assessed several areas at Hueco Tanks for signs of risk to archeological deposits, such as loss of vegetation, erosion or other changes that had occurred over time. Photographs of the sites were compared to photos taken of the same areas in previous years to determine user impact. Most of the areas were found to be in good condition, but those which indicated significant changes, such as the north face of Mushroom Boulder, were closed to further activities to protect valuable cultural resources.
Texas isn't world-famous for its Native American rock art, but Hueco Tanks is one of the places where Texas has rock art that predates history.
I find it remarkably encouraging that the people who come here to enjoy climbing are also aware and careful regarding the wildlife. I've seen the Hueco Tanks video, too, firsthand, in the preserved ranch house that now serves as an interpretive center, including a small museum of artifacts from Hueco Tanks. It's about 150 yards from the entry station, where you check in and out to visit (there's a camp ground at Hueco Tanks, but I'm not going to report on that until I've been there to stay -- you must have a reservation and actually be a camper there to see it, but I hope to achieve that soon).
The parks personnel at Hueco are knowledgeable, friendly, and protective -- not just of the ancient and austere park itself, but of visitors. I saw more kids and families at Hueco Tanks Sunday afternoon than I've seen in a Texas state park since I was a Scout leader. (Expo doesn't count; that's a giant outdoors fair, and it's not technically in a park, although it overwhelms TPW&D's headquarters annually).
You can watch a Hueco Tanks video at the TPWD site for the park. You can visit Texas Beyond History's website and get a closeup overview of the site.
I'm an unashamed advocate of Texas. Unlike some of our modern politicians, though, I don't think Texas needs to secede from the US. I think we need to get back to our roots and our history and take care of our land, water, and air, because it's all connected, and it's taken care of us -- and our ancestors -- and we owe that to our descendants.