"Herr Hitler: At Home in the Clouds" (New York Times Magazine, 8/28/1939)
Help: Blog
[X]

A blog (from "web blog") is a discussion or informational site consisting of discrete entries ("posts") typically displayed newest first. All Corrente posts are front-paged; there is no up-rate or down-rate process. Corrente posts are almost entirely community moderated. We encourage a clash of ideas, and do not encourage a clash of persons.

If you are the author of this post, see the Edit tab ad Help (and Advanced Help) for detailed documentation.
Submitted by

claud_alexander

on Wed, 09/09/2015 - 2:33am
Simpson, Hedwig Maurer, "Herr Hitler: At Home in the Clouds." The New York Times [Magazine] Aug 20, 1939; p. SM3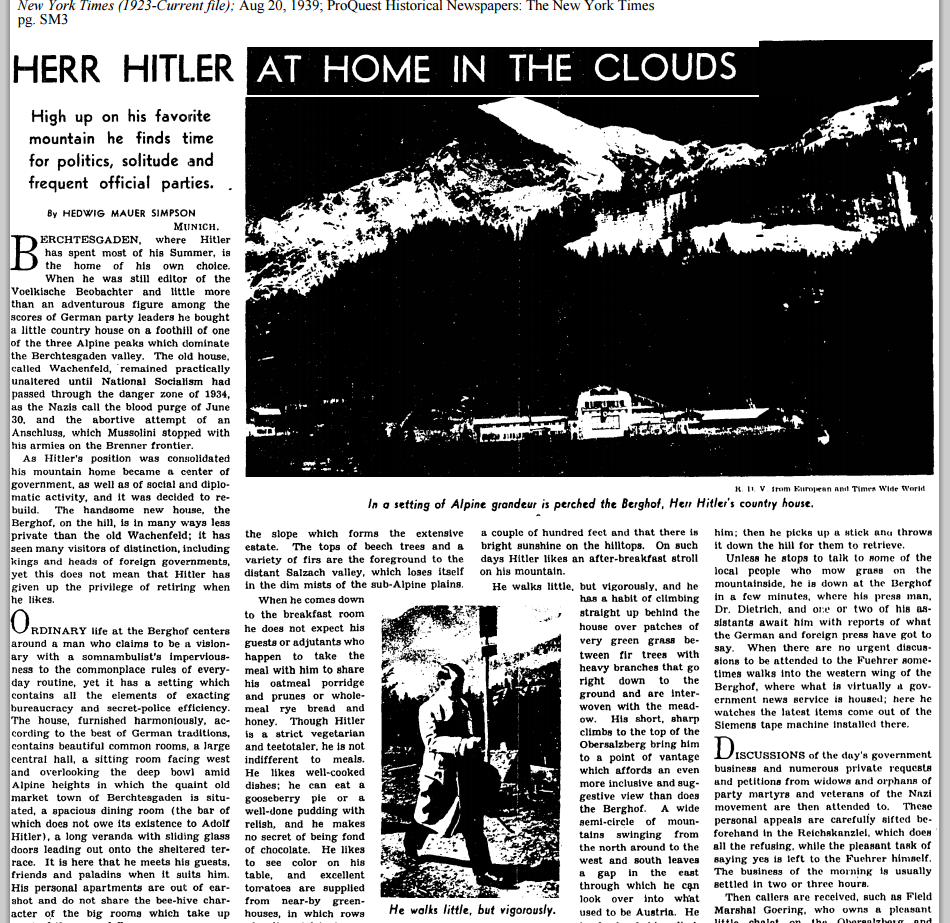 Highlights available here. "Larchwood shingles, which are just taking on a pleasant weathering". . . . If nothing else, NYTMag writers breed true.
H/t for fact of pieces's existence to Fabius Maximus who tweeted out Charlotte Hsu's piece at NY State-Buffalo news site on on a forthcoming book "Hitler at Home" by Despina Stratigakos.
For whatever reason, tho', piece didn't include image of actual article, a deficiency Corrente readers won't have to suffer from.
The late great Alexander Cockburn would not have been surprised.