Drywall, sheetrock, whatever you want to call it
Help: Blog
[X]

A blog (from "web blog") is a discussion or informational site consisting of discrete entries ("posts") typically displayed newest first. All Corrente posts are front-paged; there is no up-rate or down-rate process. Corrente posts are almost entirely community moderated. We encourage a clash of ideas, and do not encourage a clash of persons.

If you are the author of this post, see the Edit tab ad Help (and Advanced Help) for detailed documentation.
Submitted by

ohio

on Tue, 11/25/2008 - 11:19pm
I've known our neighbor Russ since we moved up here. Good guy. Biker who rebuilds Harleys for fun---we all call his garage the Museum because the bikes he's fixed up are beautiful. I had know idea he was a drywall guy until our neighbor, Rick, who engineered our house, suggested we ask him to drywall our house.
Russ is actually a taper and hadn't hung sheetrock for awhile. But he had had no work for two months and had bills to pay, so we agreed on a price, and he started working. It took longer than expected to get all the drywall on, but he did an amazing job. The guy is an artist. Persnickity as hell, didn't want help, brought his little dog, and fought his way through the zig-zags we have throughout our house.
He started taping on Friday. I've done quite a bit of drywall, but I've never used the bazooka and boxes---the specialized tools for taping---he uses. The tools are really pretty. Lots of machined parts. The bazooka squirts mud into the seams between sheets and then embeds the paper tape. The blade has a spring, so the bazooka will fill the seam with the right amount of mud as it moves along.
Here Russ bazookas the cupola walls. The ceiling will be clad in maple tongue and groove I've started planing, but it will take me another three weeks to mill all the material. You can see the sprayed foam insulation in the ceiling. I have to cover it with FSK (foil/scrim/kraft) paper as a moisture barrier before covering. I had to cover every cavity that had the foam insulation in it before we covered it.
I don't have a picture of him using the boxes, but he has several. The straight ones look like an old-style mailbox on the end of a stick. You pump mud into the box and then draw it across the seams you've already paper taped. The box will smoothly lay down more mud and feather it out. I've done this with taping knives, but never with the boxes.
Most of the drywall had a lot of cuts and Russ really took his time placing each 12-foot piece. Russ offered to bullnose the corners---because our windowsills are rounded, the bullnosing makes sense. In this image of the master bath, you can kinda see how that edge is rounded into a bullnose. As you can see, the opening on the left is for a built-in linen closet that will have doors inside and outside the water closet.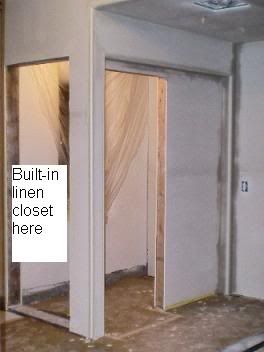 We had two areas that had curves that Russ had to wrap with drywall. The first was in the wall in the kitchen. In this photo, you can see the vertical half wall curving down to the rest of the halfwall.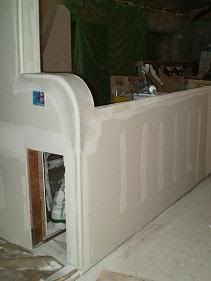 That halfwall travels the length of the prep area of the kitchen and then curves to what will be a bar where we'll have three barstools. So you can sit and have some wine and watch me cook.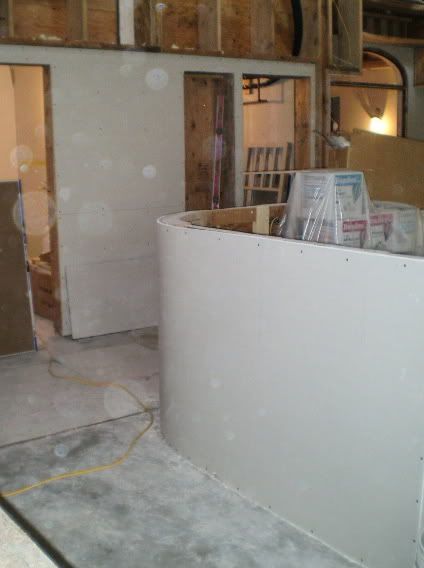 The kitchen is designed to be a workspace with the feel of an old-style diner. I'm pretty happy with how it's coming along. I won't really know if I got the distances between fridge/range/sink right, but when the fab GF and I pretend that we're cooking in there, it feels right.
The second major tricky area is the entryway. In a fit of insanity, I deviously designed a barrel vault, but the vault follows the pitch of the ceiling.
This is a view looking from cupola toward the front door.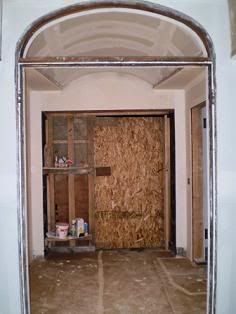 And the view from the entryway.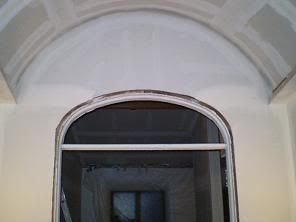 There are two layers of 1/4" drywall. We started with the center piece. Russ soaked it and we lifted it. We then had to, very scientifically (by which I mean, without the benefit of science at all) shape the two corners on either side, which was a lot harder than you might think. After we did it once, Russ told me to go away. He didn't say it in so many words, but I helped him start the last layer and then he waited until I went away. Dude's just like that.
It was cool watching him mud it because the guy could do that if he was in a coma.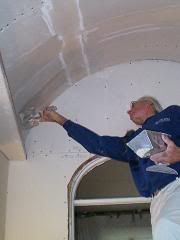 I think he'll be done next Wednesday. I'd like to find him some more work after our job. He's a good guy and he's good at his trade. Wish I had a better picture of his ponytail, which hangs down almost to his butt.
That has nothing to do with his work ability.