Dome
Help: Blog
[X]

A blog (from "web blog") is a discussion or informational site consisting of discrete entries ("posts") typically displayed newest first. All Corrente posts are front-paged; there is no up-rate or down-rate process. Corrente posts are almost entirely community moderated. We encourage a clash of ideas, and do not encourage a clash of persons.

If you are the author of this post, see the Edit tab ad Help (and Advanced Help) for detailed documentation.
Submitted by

ohio

on Sun, 10/30/2011 - 3:08pm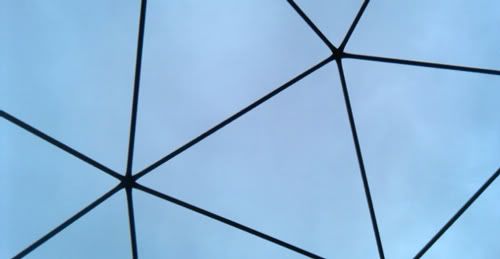 Built a dome.
23.5' diameter, 14' at the peak. 3/4" EMT as the frame, bolted together. It's sitting on weed barrier, but I didn't do a very good job leveling the site and now I'm thinking I need to move the damn thing and put in some base material. But maybe not.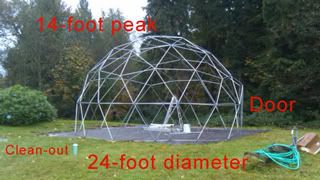 And I have to cover it. I was going to use a surplus parachute, but maybe not. And then I'll anchor it make sure it doesn't blow away. I always wanted to build one and we needed a storage space that could become a greenhouse. That it was a dome was just because.
Even without the cover, it's a lovely space, which I didn't expect. That 3V pattern is pretty cool to look at.