Cutting Medical Care Costs: Maggie Mahar's Work Filmed for Congress
Help: Blog
[X]

A blog (from "web blog") is a discussion or informational site consisting of discrete entries ("posts") typically displayed newest first. All Corrente posts are front-paged; there is no up-rate or down-rate process. Corrente posts are almost entirely community moderated. We encourage a clash of ideas, and do not encourage a clash of persons.

If you are the author of this post, see the Edit tab ad Help (and Advanced Help) for detailed documentation.
Submitted by

Sarah

on Fri, 10/23/2009 - 10:56pm
I am no expert on healthcare, and nor do I play one on TV. But unlike the summer's theatrical extravaganzas staged in "town hall" terms, there's good information headed to Congress, and I know good information when I see it. So does Bill Moyers.
She's written a previous book not about medicine but about money.
Paul Krugman praises Maggie Mahar's work in The New York Times:
Mahar's focus is not on corporate corruption, but on the enablers who cheered on false business heroes and made the corruption possible. Though she tries to frame the book as an investment guide, it reads more naturally as an indictment of stock analysts and the financial media. What I learned -- something I didn't fully appreciate before -- was the extent to which the stock market bubble of the 1990's was supported by intimidation as well as exuberance. — Paul Krugman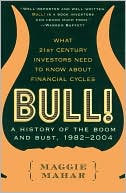 Judging by the size of the 2007/8 crash, "Bull" looks downright prophetic.
Here's hoping Congress will listen to Mahar's arguments this fall -- provocative as they are -- more carefully than investors did five years ago.