Present perfect
Help: Blog
[X]

A blog (from "web blog") is a discussion or informational site consisting of discrete entries ("posts") typically displayed newest first. All Corrente posts are front-paged; there is no up-rate or down-rate process. Corrente posts are almost entirely community moderated. We encourage a clash of ideas, and do not encourage a clash of persons.

If you are the author of this post, see the Edit tab ad Help (and Advanced Help) for detailed documentation.
Submitted by

ohio

on Fri, 07/23/2010 - 7:49pm
On July 1 we went from building a house to having built a house.
We have tons yet to do, mostly finish work, which I like. We got a crapload of the tile work done. Lots of pix.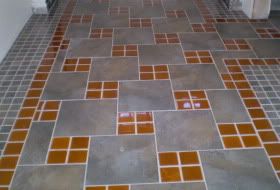 And of course, we have to get to the maintenance.
The interior and exterior walls of this structure are stucco plastered. We plan on limewashing the exterior walls every other year. I'd prefer to do this in spring and planned to do it this May, but didn't. So now we're planning on doing it in the fall.
Limewashing has nothing to do with rubbing the rim of a margarita glass prior to plunging it in salt. Well, almost nothing as you can have a margarita while limewashing provided you 1) are supervised and 2) you wear rubber gloves.
Lime is very alkaline and can burn you, especially the stuff we use, which is lime putty. Essentially, limestone is quarried and baked in a kiln until the moisture is gone and the limestone changes chemical composition, resulting in quicklime. You know the stuff they sprinkled on dead Mozart at the end of the movie Amadeus? That's quicklime. Quicklime is nasty stuff. But when slaked with water it creates lime putty and when thinned down to the consistency of skim milk, can be brushed on plaster walls to spruce them up and fill in small cracks.
I got gallons of lime putty from a guy whose daughter had done a marmorino plaster finish on his garden wall. She used a quarter of a huge drum of the stuff and left the rest in his garage. I dumped it into 5-gallon buckets and set it aside. I got another bucket of the stuff from St. Astier's (think that's the name), a lime putty supply house. They just gave it to me, which was pretty nice of them.
First step is to mix the lime putty to the correct consistency and sieve it for any lumps. Then I'll pressure wash the exterior walls, set up scaffolding, and keep a sprayer nearby to keep the walls damp-ish. The limewash will adhere better on a damp field. We'll brush or roll it on. This is not a precision task, so much so that in the U.K., when everyone gets together to limewash the buildings in the village, they get a little tanked in the process.
Theoretically, you want multiple thin coats, so that means going around the house at least three if not five times to get it limewashed properly. Why not four time? Because I like odd numbers for these kinds of things. I don't know why.
I've worked with lime before. We painted a lot of the walls with milk paint, which uses casein (milk protein) and Type S lime with a filler (chalk or as pottery people call it, "whiting") and pigment if you want it. Those surfaces required multiple thin coats as well and were a total pain in the ass. Thank dog I had a sprayer.
Okay, I have three sprayers: one paint sprayer for latex/oil paints, one gravity fed sprayer, and one HVLP set-up for shellac, which is part of the finish for all of our woodwork (that finish is boiled linseed oil, or BLO, flooded over and wiped off the surface twice followed by multiple thin coats of shellac). Note: It is perfectly normal for a person to have various spraying systems even though other people may think it is excessive. Anyway, I used the gravity-fed sprayer for the milk paint and it looks pretty good.
Regardless, we had no trouble with inspections or inspectors. Well, one of the electrical inspectors was kind of a dick, but it wasn't that big of a deal. The building inspector dude (whose name really is Dick) said we didn't have to bother with making the little house a workshop. We don't need permits or anything. My tools are jammed in what was our bedroom while we finish packing up our offices.
Next I have to finish the cupola ceiling and trim out the upper windows and top of the great wall of storage, and do the dry-set stone floor in the living room. The cargo container is full of materials, though, so no spending for awhile. Our last big ticket items are the lighting systems in the kitchen and under the cupola, but we'll wait until we can pay cash.
The solar hot water is dreamy. Seriously. The sound of the little pump makes my heart soar. I set up our clothes dryer in the back and for the first time in years we can wash and dry our clothes with the help of the sun. Our two old cats laze around the house during the day and run around at night. The fab GF has made friends with one of the feral cats, who lets her pet him.
The days have been hot. Nights have been deliciously cool. Last weekend I built a very small temporary patio so the fab GF could grill. She comes from a long line of grilling folk, so when I saw a grill made by a company with the same name as hers, I bought it. It was her gift for our wedding anniversary and tonight she will give it a trial run.
I know the world is a mess and entire lives are in ruins. Cruelty abounds. My darling girl lost two brothers in the time it took to build our house, one of whom would have helped us with hammer and nails and some choice language that would have even made me blush. One was a hardass and loved to cook. One was sweet and loved to drink. There is nothing to say about their lives or deaths other than that she misses them terribly and can't forget the kindness each gave her when she needed it. And for that I love them and miss them, too.
All we can do is work and love and try to be better. We hold on. "Love is the only fortress…," it says in my wedding ring. "Strong enough to trust to," it says in hers.