Change in Official Government Policy Announced
Help: Blog
[X]

A blog (from "web blog") is a discussion or informational site consisting of discrete entries ("posts") typically displayed newest first. All Corrente posts are front-paged; there is no up-rate or down-rate process. Corrente posts are almost entirely community moderated. We encourage a clash of ideas, and do not encourage a clash of persons.

If you are the author of this post, see the Edit tab ad Help (and Advanced Help) for detailed documentation.
Submitted by

MJS

on Mon, 10/24/2005 - 4:51pm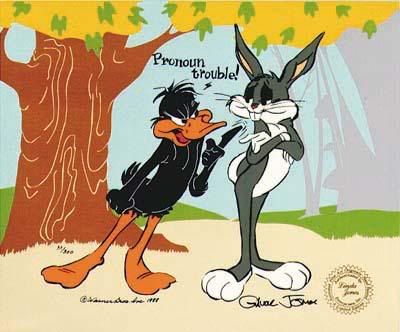 Two CIA Covert Operatives Discuss Language-Related Issues
+++
(Jivester News, Lmtd.) The White House has officially declared what many CIA agents have dreaded for some time, but were nevertheless caught offguard by: It's Covert Operative Outing Season! "All citizens have the right, and duty, to unmask CIA covert operatives, or even fellow citizens who act like they could be covert operatives, or Unitarians/atheists in general," President Bush said this morning while rubbing linseed oil into Harriet Miers' jawbone. Asked if he knew of any covert CIA operatives who he personally would out, the President chuckled and shot the reporter who asked the question in the head.
Covert CIA Operatives have been seen running for cover all over our nation's capital since the announcement was made at 11:00 a.m. EDST. In the follow-up Q & A, Scott McClellan told a room of nervous reporters that "...the normalization of CIA covert operative-outing is all part of the process of going forward with the President's plan to (inaudible)." When asked to repeat what he had just said, McClellan responded with "You love the terrorists and want to make more of them and kill Jesus." Scott then produced a firearm and began to taunt Helen Thomas in a provocative fashion. One reporter, wearing a Groucho Marx disguise, told the President's Press Secretary that he was "awesome, and Hillary Clinton is a witch."
Gunfire rocketed across the lap of the Lincoln Memorial as covert operatives scrambled for defendable positions, seeking to cobble together an ad hoc exit plan some two hours after the announcement. The entire city went into lock-down at 4:00 p.m. as the dregs of the U.S. military were deployed to "shoot and kill those dirty coverts." Donald Rumsfeld, absolutely out of his fucking skull with merriment, said "This is a great day for hunters" as he began firing at hotel workers at the end of their shifts. "Can't fool me, Jose Lupe Frida Conchita," yelled Rumsfeld as he rained bullets on the staff members. While Secretary of Defense Rumsfeld was pausing to reload he stuck his hand in his mouth, then fell to the ground, his body convulsing violently, and gassing himself in the process.
In other news: Game Three of the World Series is scheduled for tomorrow night at Houston, with the White Sox's Jeff Garland squaring off against the Astros' Roy Oswalt. Rumors that Oswalt is a CIA covert operative have been dismissed by Houston manager Phil Garner as "...having all the substance of a hummingbird fart in a hurricane during the Rapture."
Last add: District of Columbia Government offices will remain closed for the foreseeable future, or until everybody stops shooting at everybody else, whichever comes first.
+++