American Recovery and Reinvestment Act of 2009: Content, Effect and Implications
Help: Blog
[X]

A blog (from "web blog") is a discussion or informational site consisting of discrete entries ("posts") typically displayed newest first. All Corrente posts are front-paged; there is no up-rate or down-rate process. Corrente posts are almost entirely community moderated. We encourage a clash of ideas, and do not encourage a clash of persons.

If you are the author of this post, see the Edit tab ad Help (and Advanced Help) for detailed documentation.
Submitted by

bringiton

on Tue, 02/17/2009 - 6:38pm
This stimulus act isn't all it should be, maybe five-eighths of a loaf, but it is better on close examination than first appearance and media reports had suggested.
The construction, debate and resolution of this Act have been extraordinary in many ways. On full reflection, it appears that Liberals and Moderates in Congress have won a significant advantage over the Conservative/Reactionary cabal, the first time that has happened on any major legislative issue in at least three decades; maybe four. While the BlueDog coalition retains substantial power to obstruct and diminish any full-out liberal initiatives should they so desire, the top Democratic leadership have clearly found a path to drive significant portions of their preferred progressive agenda and reversed course on many previously Right-dominated social issues.
Most pleasing for progressive interests is the unexpected (by me) complete rejection by the Republican Party of even a pretense at bipartisanship. It is a measure of how far from reality the residuum of the Party leadership resides; they really are true ideologues, mentally captive in a fantasy world where might makes right regardless of consequence and the flow of blood from the poor that nourished their leach-like bodies will never end no matter how much they exsanguinate their host. It was a signature issue for Obama, this commitment to post-partisan governance, and he will continue for a while to try and salvage it for the sake of his pride, but the failure of his approach is evident to everyone and must be let go. Nothing could be better for America, and for Progressives, than to have the bipartisanship fallacy abandoned.
What is in this legislation? The broad outlines are a total cost of $787 billion with $504 billion in spending (64%) and $283 billion in tax reductions (36%), but the interesting aspects are in the details and those are better than had been anticipated by many critics, including me. I am, on balance, pretty pleased by what has been done and how it came about.
Many of the tax reductions were included at the insistence of the BlueDogs so it was reasonable to be suspicious, but most of them are to one degree or another beneficial. The business tax reductions amount to around 120 billion, mostly from extension of existing bonus depreciation allowances and a new provision allowing a five-year carry-back of net operating losses, allowing firms to convert current losses into cash by claiming a refund of taxes paid in previous years.
While the effect of these provisions will have little immediate benefit for GDP, they will help keep out of bankruptcy many marginally profitable small businesses tottering under the dual squeeze of declining revenues and tight credit. In the short term, that can mean a lot of jobs preserved; longer term, many to most of those businesses will be able to prosper and expand as the general economy turns around, providing even more jobs.
Personal tax reductions will amount to around $160 billion, mostly for middle-class and below earners. With so many people in this economic cohort being financially stressed, any new infusion of cash will be quickly spent. While it isn't the highest bang-for-the-buck,
individual tax breaks are the fastest way to move cash into the hands of consumers. Were it not for the individual tax rebate cash handed out earlier this year, most of which was quickly spent, the sharp downturn we are now experiencing would have come sooner and been much steeper. While consumer tax reductions aren't good long-term solutions to our chronic financial problems, they also aren't immediately harmful and can be a substantial benefit in a deflationary setting by increasing demand.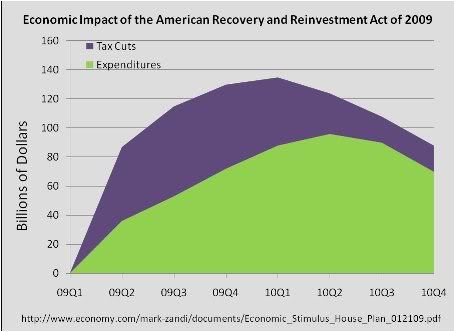 While expenditures take some time to roll out, tax break money penetrates into the marketplace very quickly. In the face of deflation, getting cash flowing and helping support the demand side of the economy is the critical initial step and tax breaks will help do that. As well, reducing taxes for the 95% of Americans who haven't benefited from the Bush tax breaks for the rich is a move towards a more progressive tax structure over all and that is a good thing.
It is on the expenditure side, however, that the real surprises appear. Reading the headlines, the impression was that the Republicans had succeeded in gutting anything progressive from the bill. To be sure, many things beneficial to poor and lower-middle class people were removed and for those cruelties the entire Republican caucus should burn forever in the lowest rung of hell. But there is still a lot to be pleased with in what was kept in the bill.
[Full disclosure; I'm quite fond of Nancy Pelosi and have great respect for Harry Reid. I understand this attitude isn't considered acceptable by many on the Left, but I don't care. I know what I know, and they are both of them in my estimation good and decent people who have struggled for a long time to do the best they could against overwhelming odds. Feel free to factor that bias into what I say, but please don't spend your time telling me I'm wrong and how awful they really are; I've heard it all before.]
Once Obama was elected and the size of the congressional majorities became clear, David Obey (D, WI-7) and Speaker Pelosi met with Reid and the Obama team to lay out broad goals for this legislation. Any claims that this work was done in isolation in the House or that Obama had little input is simply untrue; this was a team effort with all parties engaged right through to the end. With Obey doing most of the crafting, those goals were so deeply imbedded in the legislative structure they were difficult to comprehend. It was a deliberate tactic, one that made it hard for opponents to criticize progressive objectives without tearing apart the entire expenditure portion of the bill.
Once you parse your way through the various sections, actually a series of budget bills making both adjustments to existing programs and establishing new initiatives, what emerges is a wonderful redirection of American economic policy priorities in a decidedly progressive direction [numbers are approximate]:
Over $70 billion in additional funding for education, more than last year's entire Education Department budget under Bush
About $20 billion in funding for improving energy systems efficiency and development of alternative energy sources; more is needed but this is a good start
Nearly $80 billion increasing benefits and expanding eligibility for unemployment compensation
Around $85 billion for increased Medicare and Medicaid coverage
About $150 billion for infrastructure including repair and new construction
Nearly $30 billion in new funding for science and technology R&D, nearly double last year's entire federal R&D expenditures, completely repudiating the Bush policy of strangling federal commitment to R&D
An $8 billion down payment for building a high-speed rail network, just like the other grown-up countries have
All of that is on top of existing funding and while we'll want to watch closely for any back-sliding these stimulus funds are intended to be in addition to yet more increases in each of these areas in the next omnibus budget proposal. These are important and substantive progressive policy advancements; they and the people who implemented them deserve to be lauded.
With regard to mitigating the recession/depression, this bill will help but not as much as likely will be needed. However, a closer inspection of the details has persuaded a number of economists to assess the positive impact as greater than first thought.
The Obama team has estimated the benefit in terms of jobs at about 3.7 million. It appears, however, that they may be low-balling so as to avoid disappointment if things don't go well. Detailed assessments by Mark Zandi and others, using Moody's macroeconomic methodology, place the value of the package in terms of jobs at somewhere between 4.5 and 5 million.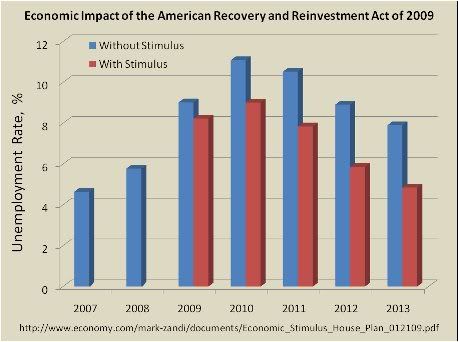 The effect as estimated by Moody's shows an immediate impact, with incrementally greater benefit continuing on out through 2012. While this is a promising picture, it is insufficient. America needs better, and another stimulus bill around this time next year will be required. By then the evidence of necessity will be clear, as will be the benefit achieved from this round. Public support should be substantial, overwhelming Republican opposition; Americans love a winner.
Finally, the difference between a Democratic administration and a Republican should be considered. John McCain has of course weighed in with his opinion on what should be done. He and Mitch McConnell lead the Republican resistance in the Senate, calling the bill "pure pork" and introducing a substitute measure composed entirely of tax cuts – the weakest possible approach economically but the most advantageous for the rich.
Even after the bill had been passed, McCain continued to attack it as "generational theft." Had he been President, McCain would have been just as irresponsible and focused on stealing as much money as possible for the 1% Elite as any other Republican, willingly plunging America into a full-on depression in pursuit of enrichment of the few at the expense of the many. The Republican Party is nothing more than the political front for a massive criminal organization, and anyone who would support a Republican in government is as much a criminal as are they – or a fool.
All things considered, this is a job well done by Pelosi, Reid and Obama. It wasn't a simple thing to get this Act, insufficient and weakened as it was, past the obdurate opposition. Certainly it was not the work of weaklings or idiots, and also not the work of servants of the same Corporatist Reactionaries who have been running things the past 35 years. They would never have allowed anything remotely like the Progressive elements included in this bill, but rather something a great deal more along the lines of what John McCain wanted; more tax breaks for the rich and impoverishment for everyone else. As sad as it may be to acknowledge, we are a great deal better off now than we would have been under a continuation of the previous regime.
Now that Obama has been thoroughly disabused of the wisdom of pursuing bipartisanship, he may be able to put aside his pride and set about governing instead of compromising. He won't be any less of a Conservative, but a Conservative is not a Reactionary; Obama is much better than 2% Less Evil. If he can get some help whipping the BlueDogs into shape, the Progressive and Moderate Democrats in Congress will move to implement steadily more Progressive legislation.
We should consider carefully how we might be helpful in that regard.
Further reading:
American Recovery and Reinvestment Act of 2009
Lawrence Mishel and John Irons editorial opinion
Analysis by John Irons at the Economic Policy Institute
James Galbraith at Firedog Lake on what to do next
Hugh Sunday at Oxdown Gazette, with a somewhat less optimistic assessment
And for "balance" the entirely pessimistic view from the people whose policies created this mess