A Race Against Time in Long Beach, California
Help: Blog
[X]

A blog (from "web blog") is a discussion or informational site consisting of discrete entries ("posts") typically displayed newest first. All Corrente posts are front-paged; there is no up-rate or down-rate process. Corrente posts are almost entirely community moderated. We encourage a clash of ideas, and do not encourage a clash of persons.

If you are the author of this post, see the Edit tab ad Help (and Advanced Help) for detailed documentation.
Submitted by

MJS

on Fri, 08/25/2006 - 4:45pm
Back in June I did two postings regarding Tippi, the Elephant Man Dog, who suffered from outsized tumors on her head. A rescued female, she was aided by a group in Long Beach, California, receiving life-saving surgery and sanctuary at Noah's Ark Shelter.
The first two stories are here and here. Tippi survived her surgery but now faces another urgent challenge: she was one of the 250 dogs and cats confiscated by the Long Beach Animal control in a raid on Noah's Ark that took place this past Wednesday.
A flurry of e-mails with news regarding the raid and the safety and care of these animals have been shared among various animal rescue groups and individuals in the past two days. The Long Beach Press Telegram covered the story on Thursday with a follow-up story today.
From today's article:
Two drastically different stories emerged from both sides of the issue concerning Noah's Ark Animal Rescue, in the 1300 block of Redondo Avenue.

Authorities arrested shelter owner Alexia Kyrklund on Wednesday on suspicion of animal cruelty and seized around 250 cats and dogs after finding them in deplorable conditions, officials said.

Today, Kyrklund and her attorney, James Blancarte, will ask a Long Beach Superior Court judge to bar Animal Control from euthanizing any of those seized animals.
The kinds of dogs and cats Noah's Ark rescues are often at or near the end of their respective trails: the elderly, the sick, the abused. After having read that Long Beach Animal Control was reporting that "sick and old dogs" were at the shelter, I wrote the Press Telegram reporter:One of the reasons so many dogs that were found were old or had health issues is that those are the kinds of dogs that Noah's Ark rescues! Can you imagine a health officer going into a convalescent home and exclaiming "there are sick and elderly in there!"
Long Beach Animal Control is characterizing the seizure as necessary, due to unsanitary conditions and sick dogs, etc. A total of 18 frozen animal carcasses were found at Noah's Ark (not pretty, but freezing animals who have died is common practice in shelters, etc. We animals tend to rot without measures--such as freezing--being taken). From the Press Telegram:
"Long Beach Animal Control is taking the appropriate actions to have the animals thoroughly examined by experts," she said. "It's a step to assist the animals, not to harm them."

But Kyrklund and Blancarte said the city's definition of an animal that is beyond treatment is far different from that of Kyrklund's no-kill shelter. Because most of the animals she took in were scheduled to be euthanized at city and county animal shelters, Kyrklund said, she doubts Long Beach will alter its policy in this case.

"Tomorrow's hearing is kind of moot to me because they were already going to be euthanized before I took them in," she said. "We're talking about seniors, 15- and 16-year-old dogs. They still wag their tails, they may move a little slower, they may have skin tags and they may not look as good to some of us, but they love us and we love them."

Her shelter, she said, received regular visits from Animal Control officers who had never seized dogs or cats before.
My wife went to Long Beach this morning (Friday, August 25th, 2006) to attend the hearing regarding this matter--the hearing was moved to San Pedro (while crossing the St. Vincent Thomas bridge to get to San Pedro my wife called me--she gets a bit nervous crossing large spans over water--a story for another time). She called me back again soon after and told me that two of the dogs removed from Noah's Ark died in the night while in the care of Long Beach Animal Control--they may have been very old and sick, and the excitement and stress of being removed may have contributed to their deaths.
Long Beach Animal Control is a "high kill" facility for a variety of factors including the huge numbers of animals that arrive there daily. While giving assurances that they would not unduly euthanize the animals brought in from Noah's Ark the fact is that they require room to board there, room that other animals will now be denied. No room equals more kills, so do the math and ask yourself: how many animals below the radar of this story are being fast-tracked for death because of these events?
Here is copy from two e-mails I recently received:
Dear Rescuers,
There is a lot of misinformation flying about. I got an email this morning saying that with copies of dogs/cats original paperwork, you could pick up your animal from Long Beach Animal Shelter (re: Noah's Ark seizure.) I'm not sure this is accurate, as all of the animals are being held as "evidence." Evidence dogs are generally NOT released - as in the recent case re: Akita Buddies closure...
Alex was released this morning and telephoned me, and she confirmed that animals would probably not be released, but that it wouldn't hurt to call and double-check. She said she is making every effort she can, as well, to try to get animals released.
In the meantime, if you have don't know Alex - and even if you do! - please check this out: http://www.friendsoflongbeachanimals.org... This lady loves animals and takes wonderful care of them. You can also check out her website:
Click here: N-A-A-R.ORG
Please, if you haven't done so already, EMAIL, PHONE OR FAX CITY HALL MEMBERS. Here are some additional emails. WE MUST PUT SOME POLITICAL PRESSURE ON THESE ELECTED OFFICIALS AND HOLD THEM ACCOUNTABLE SHOULD ANY OF THESE ANIMALS BE HARMED. It will only take a few minutes and is the only weapon we have right now. Thanks to everyone... Diane - arthurna@aol.com
Gary DeLong, Alex's City Councilmember
District3@LongBeach.gov
DeLong's Administrative Analyst
Anne_Cramer@longbeach.gov
DeLong's Legislative Analyst
Dominic_Storelli@longbeach.gov
Mayor Bob Foster
mayor@longbeach.gov
Mayor's Chief of Staff:
Becki_Ames@longbeach.gov
City Manager Gerald R. Miller
citymanager@longbeach.gov
City Attorney Robert E. Shannon
cityattorney@longbeach.gov
City Prosecutor Thomas M. Reeves
prosecutor@longbeach.gov
Maybe mention something like this...
NOAH'S ARK DIDN'T CAUSE THE ILLNESSES IN THESE ANIMALS. THIS IS HOW THEY WERE BROUGHT IN. PLEASE UNDERSTAND THIS. ANY ANIMALS FOUND IN POOR HEALTH AT NOAH'S ARK ARE NOT THAT WAY BECAUSE OF THE CONDITIONS THERE, BUT BECAUSE OF ABUSIVE AND NEGLECTFUL SITUATIONS THAT NOAH'S ARK HAS RESCUED THEM FROM.
REMIND THEM THAT NOAH'S ARK ANIMAL RESCUE'S MAIN FOCUS IS TO TAKE IN THE SPECIAL NEEDS ANIMALS WHICH INCLUDES ANIMALS THAT HAVE BEEN INJURED, HAVE SEVERE SKIN CONDITIONS, VERY ILL AND/OR TRAUMATIZED ANIMALS AS WELL AS WELL AS ELDERLY ANIMALS.
THE RESCUE COMMUNITY IS SO GRATEFUL THAT ALEX WILL TAKE IN ANIMALS THAT NO ONE ELSE SEEMS TO WANT, AND IS ACTUALLY ABLE TO ABLE GET THEM HEALTHY AND ADOPTED INTO LOVING HOMES. MANY OF THESE ANIMALS COME TO HER IN SUCH DIRE NEED OF HELP AND IT IS OFTEN DIFFICULT TO LOOK AT THEM AT FIRST.
PLEASE LET TELL THEM THAT YOU ARE CALLING IN SUPPORT OF NOAH'S ARK!!
Thank you!
Please spread the word about this and if you know anyone in the media or a well-known personality who can help Noah's Ark, please bring their attention to this as well.
If enough of us do this, it will make the Long Beach Animal Control very aware that they are under scrutiny and nothing had better happen to any of the animals or there will be severe consequences.
+++
From the second e-mail:
From Directors of Animal Welfare (Atwater Village, CA)
Dear Mayor Foster,
Thank you for taking a moment to read about my concerns regarding what is happening with Noah's Ark Animal Rescue in Long Beach. I have rescued animals for over 20 years. You might be aware that most people and groups that do rescue are volunteers. We don't make a profit for what we do. In fact, we often spend our own money trying to help. I spend an estimated $10,000 a year on vet bills and boarding for animals that are not my own. I do it because I care about animals and it's one way I can make the world a nicer place for all of us.
What has happened to Alexia Kyrklund of Noah's Ark is the result of a huge misunderstanding. The animals that were seized from her facility were rumored to have been abused or neglected. Well, essentially, they were! That's why Ms. Kyrklund rescued them! She does such an amazing service to all the ugly, sick and broken animals of the community. Animals that have been beaten, starved, shot and often left to die. Alexia takes in these poor animals when no one else will. I personally have taken 8 dogs to her, knowing that they were in the best possible place they could be. Alexia works very closely with each rescue, often paying out of her own pocket for veterinary care and surgery for any animal that needs it. She took in a dog with a broken palette, a dog with a giant tumor on her head, a dog that was blind, a little, old dog who's owner died (and who's kids didn't want to bother with, so they just put it out on the street---where it was ultimately hit by a car.) She has also taken in dogs with severe cases of mange, some who's fur will never grow back. But because Alexia will find someone to love them, they will eventually find a wonderful, permanent home. Until that day comes, these animals are well cared for and very well loved. The volunteers play with the dogs and cats, brush them and do a great job at getting them ready for adoption.
Please understand that without the help of Noah's Ark, these animals would not have a chance. Not because they don't deserve one, but because no one I know, except for Alexia Kyrklund has been willing to give them one. I've known her to stay up all night nursing a litter of kittens found in a dumpster. And to hold and comfort an old dog when it was time to let go. She is the person that makes life beautiful for so many animals that would otherwise never know what love is. And now she needs our help.
Is there anything we can do to help her? She should be commended for what she's doing, not made to suffer for it. Many of the animals that have been taken from her need medication. She has a perfect system for caring for all of them, while simultaneously trying to get them into loving permanent homes. I know that there are people in the world that call themselves animal rescuers, but don't always have the animals' well being in mind. This can never be said of Alexia Kyrklund. She is the most giving person I have ever known.
Please, please, please do what you can.
Thank you,
Directors of Animal Welfare
Atwater Village, CA
(213) 891-4900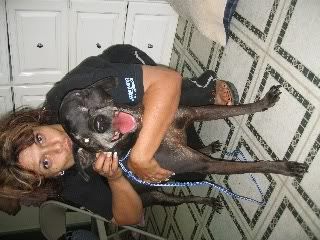 Here's Tippi, getting love from Alexia when she first arrived at Noah's Ark. Tippi is a recent rescue that I had the pleasure of bringing to Alexia for care. The giant tumor on her head was removed and Tippi has fully recovered! She is all ready to go to her wonderful new home, but is stuck in the pound.
(ps...look how clean the floor is!)
Another letter:
Dear Sir...I'm writing in SUPPORT of Noah's Ark Animal Rescue. I have personally brought many sick,injured,and elderly dogs to Noah's Ark..and have watched each animals progress..These animals come to her in horrible looking conditions..and she cares for them,and often spends her own money to do operations on dogs that would otherwise have never had a chance at a wonderful life. She gives these dogs back what other humans have taken away.Seizing these animals is a travesty and a horrible tragedy for each animal who has been put back in the very conditions that caused many of the illnesses that Noah's Ark saves them from. The skin condition shown on one little puppy on the T.V. broadcast today ,is mange. Actually most mange is non-contagious and is a direct result of a lowered immune ststem due the stress in the shelter. The puppies are not found with mange..but come down with it at the shelter. Same with Kennel Cough,Parvo..worms...Some dogs are put into krennels with other dogs and are injured. And some dogs are brought in by their owners after they have spent all their lives with them...left to spend thier "golden" years to die on the cold hard cement floor of a shelter. These puppies come from shelters where there are no beds,or blankets. They sleep on cold concrete..or swelter in blisstering hot conditions during the summer. They become dehydrated and develop respirtory infections from the insanitory conditions at many shelters. The elderly and injured have to lay on cement in pain..until they are euthanized without a sedative first. These are not bad animals...just animals that are not wanted anymore. Imagine your own animals being in these shelter conditions. These are the animals that Noah's Ark saves...Noah's Ark does not cause these illnesses..this is how the animals are brought to her. Please understand this. Any animals found in poor health are not that way because of the conditions at Noah's Ark..but because of the condions at the shelters Noah's Ark rescues them from. Many hurt or sick animals are dropped off at Noah's Ark and she is left to care for them. The following photos are of Tippie... a dog who was at the Camarrillo Animal shelter,until one of the supervisors asked me to ask Noah's Ark if she would take Tippie. Alexia did...and within days...a 10lb. tumour was removed from this angels head. Tippie also had been riddled with BBgun bullets. These is her photos..before and after.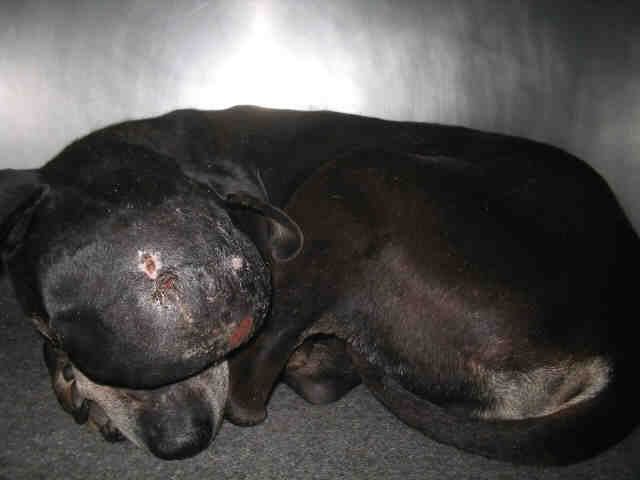 Thank you for your time. I live in Santa Barbara although I rescue and network dogs in trouble all over Southern California.
Hope and Dignity Animal Rescue
+++
Please call and let the appropriate agencies and individuals how you feel about this matter. The clock is ticking.
+++